Imaging System offers anti-counterfeiting solution.
Press Release Summary: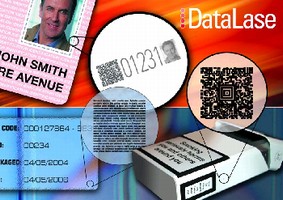 Combining chemistry, variable energy laser source, and control system, tamperproof GUARDMARK(TM) System produces overt, semi-covert, and covert images, protecting and authenticating primary packaging and security documents. Manufacturers can apply different levels of protection to their brands. Microscopic scale images with resolution up to 10,000 dpi can be applied directly to surface of product as well as embedded in substrate or within laminate films surrounding it.
---
Original Press Release:

DataLase® Unveils a New Identity For Its Anti-Counterfeiting and Authentication Solution



DataLase® Unveils a New Identity For Its Anti-Counterfeiting and Authentication Solution

(WIDNES, CHESHIRE, July 14 2006) - DataLase (formerly Sherwood Technology), originators of the award winning DataLase® process, introduces DataLase® GUARDMARK(TM). Formerly the DigiVU(TM) suite of solutions, this tamperproof encapsulated imaging solution is ideal for protecting and authenticating primary packaging and security documents. Combining proprietary chemistry, a variable energy laser source and individual control system, this groundbreaking new solution produces unique, ultra high resolution, overt, semi-covert and covert images ensuring unparalleled document and brand protection.

The counterfeiting market continues to grow and it is estimated to have surged towards $1 trillion in 2004 and be worth 10% of world trade. Tools that can protect brands are therefore a valuable weapon in the continuous fight against fraud. DataLase® GUARDMARK(TM) is unique in its field, providing brand manufacturers with a safe, secure and highly-effective way of preventing forgery.

DataLase® GUARDMARK(TM) allows manufacturers to apply different levels of protection to their brands using one single product. Microscopic scale images with a resolution up to 10,000 dpi can be applied directly to the surface of a product or become embedded in its substrate or within laminate films surrounding it. The process is capable of forming images directly between the layers of a clear laminate film or self adhesive label whilst retaining the integrity of the uppermost layer. Absolute image permanence and tamper resistance are guaranteed.

DataLase® GUARDMARK(TM) provides the essential 'three levels of protection'. Firstly, it enables the covert marking of products with images such as micro photographs and text that can be magnified and visually compared. This innovative solution also allows encrypted data to be scanned and machine verified and finally, covert, hidden images can be forensically analysed and laser marked. This variable digital imaging process can be applied to any substrate, including general packaging materials, plastic, metal and glass.,

DataLase's authentication technology was awarded the accolade of 'Outstanding Achievement in Anti-forgery Technologies' at the Product and Image Security Convention (PISEC) 2005 in Vienna, Austria.

More information about DataLase and DataLase® GUARDMARK(TM) is available at www.datalase.com or by e-mail info@datalase.com

More from Sensors, Monitors & Transducers