Vision and Imaging Sensors / Detectors
Image Sensors extend depth of field in phone cameras.
Press Release Summary: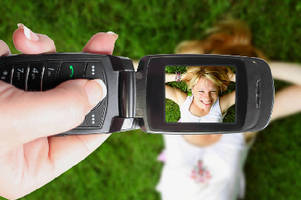 Featuring ¼ in. optical format, 3.15-megapixel Models VD6853 and VD6803 provide integrated Extended-Depth-of-Field capabilities ranging from 15 cm to infinity. Units include image enhancement filters and 4-channel anti-vignette to balance uneven illumination. Model VD6803 is available with 10-bit parallel legacy interface, while Model VD6853 features CCP2 interface. Enabling camera modules as small as 6.5 x 6.5 mm, sensors are suitable for mobile phones, laptops, and machine vision applications.
---
Original Press Release:

ST's New Image Sensors Extend Depth of Field in Phone Cameras from 15 Centimeters to Infinity



Geneva, February 18, 2009 - STMicroelectronics (NYSE: STM), a world leader in CMOS imaging technology, has introduced the market's first 1/4-inch optical format, 3-megapixel raw Bayer sensors with integrated Extended-Depth-of-Field (EDoF) capabilities. Enabling camera modules as small as 6.5 x 6.5mm, ST's newest image sensors combine exceptional sharpness and user experience with size and cost benefits, offering a smart alternative to auto-focus camera solutions.

The VD6853 and VD6803 are high-performance 3.15-megapixel CMOS image sensors with integrated EDoF. The unique combination of on-chip EDoF with ST's most advanced 1.75 um pixel process results in excellent image quality at focus distances down to 15 cm, extending the camera's in-focus range from ultra-short distance optical character recognition and bar-code reading to best infinity ST's new CMOS sensors also embed image enhancement filters, including 4-channel anti-vignette to balance uneven illumination or defect correction on the fly, which ensure optimum image quality and reduce tuning complexity. In addition to mobile phones, the sensors can be used in other imaging applications where the cost, power consumption or physical size of conventional auto-focus solutions is prohibitive, such as laptop cameras, toys or machine-vision applications.

"Our newest sensors smartly combine advantages of auto-focus solutions - image sharpness and rich user experience - with size, cost and reliability benefits associated with fixed-focus camera modules," said Arnaud Laflaquiere, Sensor BU Director, STMicroelectronics. "These devices meet the demanding performance and cost requirements from camera phone vendors and are well suited for future wafer-scale optics and assembly technologies."

The sensors are available in ST's TSV (Through Silicon Via) wafer-level package. This type of package enables the production of standard as well as wafer-level camera modules. The reflowable modules are soldered directly on the phone PCB (printed circuit board), which saves cost, space and time compared with the process of fixing traditional camera modules in the board socket.

ST's new image sensors are available with a 10-bit parallel legacy interface (VD6803) or CCP2 interface (VD6853). They are compatible with most of the leading baseband and application processors with integrated Image Signal Processor. For example, the SMIA-compliant VD6853 is fully compatible with ST's image processor (STV0986) that brings standalone digital camera performance to cellphones, PDAs, gaming devices and other mobile applications.

Engineering samples and demo-kits are available now, with the volume production scheduled for Q3 2009. The VD6803 and VD6853 are available in two package options, as a COB (Chip On Board) die or in the TSV (Through Silicon Via) wafer-level package. Unit pricing is below $5, depending on the package types and shipment dates.

About STMicroelectronics

STMicroelectronics is a global leader in developing and delivering semiconductor solutions across the spectrum of microelectronics applications. An unrivalled combination of silicon and system expertise, manufacturing strength, Intellectual Property (IP) portfolio and strategic partners positions the Company at the forefront of System-on-Chip (SoC) technology and its products play a key role in enabling today's convergence markets. The Company's shares are traded on the New York Stock Exchange, on Euronext Paris and on the Milan Stock Exchange. In 2008, the Company's net revenues were $9.84 billion. Further information on ST can be found at www.st.com.

STMicroelectronics, Inc.

Lexington Corporate Center

10 Maguire Road

Bldg. 1, 3rd Floor

Lexington, MA 02421

(781) 861 2650

www.st.com

More from Materials