Vision and Imaging Sensors / Detectors
Image Sensor includes RGB-IR color filter.
Press Release Summary: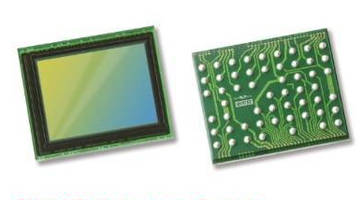 Built on 3.75 micron OmniPixel3-HS™ pixel architecture, 1/3 in. CameraChip™ OV9752 can capture HD images and video in 1280 x 960 pixel resolution, as well as infrared information, providing optimal scene reproduction regardless of lighting conditions. Sensor captures video at 60 fps with 10-bit output or 45 fps with 12-bit output. Housed in 6.3 x 5.2 mm package, OV9752 is designed for next-generation security and home monitoring applications.
---
Original Press Release:
OmniVision Launches 1/3-Inch CameraChip(TM) Sensor with RGB-IR Color Filter for Advanced Security Applications
Infrared Color Filter and OmniPixel3-HS(TM) Technology Enable High Quality Image and Video Capture in Low-Light Conditions

SANTA CLARA, Calif. -- OmniVision Technologies, Inc. (NASDAQ: OVTI), a leading developer of advanced digital imaging solutions, today announced the OV9752, a new CameraChip(TM) sensor designed for next-generation security and home monitoring applications. The 1/3-inch OV9752 captures high definition (HD) images and video in 1280 x 960 pixel resolution as well as infrared information, providing excellent scene reproduction regardless of lighting conditions. These benefits make the OV9752 an ideal camera solution for security systems designed to record during day and night.

"The OV9752 uses an RGB-IR dual band color filter instead of the traditional mechanical rotary filter, which both simplifies the design and reduces the sensor footprint. This approach also allows the sensor to capture extremely high quality IR images and video, even from great distances," said Chris Yiu, senior strategic marketing manager at OmniVision. "Traditional security cameras' mechanical IR filters are major cause for security camera failures. By eliminating the need for such a mechanical filter, the OV9752 provides our customers with a more reliable and highly effective camera solution."

Built on the 3.75-micron OmniPixel3-HS(TM) pixel architecture, the OV9752 can capture excellent images and video in high, low, and "no" light environments, in either visible light or infrared. The sensors can capture in 1280 x 960 pixel resolution video at 60 frames per second (FPS) with 10-bit output, or at 45 FPS with 12-bit output. Additionally, the OV9752 features an ultra-low power mode, which allows the sensor to reduce the resolution and frame rates and operate at reduced power consumption.

The OV9752 fits into a 6.3 x 5.2 mm package. It is currently available for sampling and is expected to enter volume production in the fourth quarter of 2015.

About OmniVision
OmniVision Technologies (NASDAQ: OVTI) is a leading developer of advanced digital imaging solutions. Its award-winning CMOS imaging technology enables superior image quality in many of today's consumer and commercial applications, including mobile phones, notebooks, tablets and webcams, digital still and video cameras, security and surveillance, entertainment devices, automotive and medical imaging systems. Find out more at www.ovt.com.

OmniVision® and the OmniVision logo are registered trademarks of OmniVision Technologies, Inc. CameraChip(TM) and OmniPixel3-HS(TM) are trademarks of OmniVision Technologies, Inc. All other trademarks are the property of their respective owners.

CONTACT:
Company Contact:
Scott Foster
OmniVision Technologies
408.567.3077
sfoster@ovt.com

Web Site: http://www.ovt.com
More from Controls & Controllers