Vision and Imaging Sensors / Detectors
Image Sensor and Processor target automotive applications.
Press Release Summary: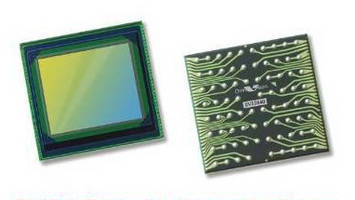 Built on OmniBSI™ backside illumination technology, OV10640 Image Sensor captures detailed, full-resolution 1.3 MP images and video at 60 fps. Sensor features HDR implementation and processing technology to minimize motion artifacts, resulting in clear scene reproduction with up to 120 dB dynamic range with RAW output. OV490 Companion Processor enables simultaneous output of fully processed YUV or RGB data for display-based applications and RAW data for machine-vision downstream processing.
---
Original Press Release:

OmniVision Announces New Flagship Automotive Image Sensor and Specialized High-Dynamic Range Companion Processor



OV10640 and OV490 Bring High Definition, Enhanced Low-Light Sensitivity and HDR to High-Performance Automotive Applications



SANTA CLARA, Calif., – OmniVision Technologies Inc. (NASDAQ: OVTI), a leading developer of advanced digital imaging solutions, today announced the automotive industry's first backside illumination (BSI) image sensor and a new powerful companion processing chip. The OV10640 delivers industry-leading sensitivity and high dynamic range (HDR) of up to 120 dB in highly compact automotive-grade packages, while the OV490 enables high-quality image and video processing. The OV10640's enhanced performance and OV490's optimized processing capability bring crisp, clear images and video to next-generation advanced driver assistance systems (ADAS) across a wide range of vehicle platforms.



"With the consumer predilection for advanced automotive features such as 360-degree surround view, lane departure warning and pedestrian detection, there is a tremendous demand among automobile manufacturers for imaging and processing solutions that deliver exceptionally clear, low-noise images and video," said Inayat Khajasha, senior product marketing manager for automotive products at OmniVision. "The announcement of the OV10640 and OV490 underscores OmniVision's position within the automotive industry as a trendsetter in developing sensors for next-generation ADAS applications."



The OV10640 is the first automotive image sensor built on OmniBSI™ technology, enabling the industry's highest sensitivity to capture highly detailed, full-resolution 1.3-megapixel images and video at 60 frames per second (FPS). The sensor features OmniVision's unique HDR implementation and processing technology to minimize motion artifacts, resulting in clear scene reproduction with up to 120 dB dynamic range with RAW output.



The OV490 is a companion processor that enables simultaneous output of fully processed YUV or RGB data for display-based applications and RAW data for machine-vision downstream processing. The OV490's advanced ISP facilitates high-quality image capture and video streaming. Its unique architecture is capable of processing two video pipelines, resulting in reduced bill-of-materials.



The OV10640 and OV490 are now available for sampling, and are expected to complete AEC-Q100 Grade-2 qualification and enter volume production in the fourth quarter of 2014.



About OmniVision

OmniVision Technologies (NASDAQ: OVTI) is a leading developer of advanced digital imaging solutions. Its award-winning CMOS imaging technology enables superior image quality in many of today's consumer and commercial applications, including mobile phones, notebooks, tablets and webcams, digital still and video cameras, security and surveillance, entertainment devices, automotive and medical imaging systems. Find out more at www.ovt.com.



OmniVision® and the OmniVision logo are registered trademarks of OmniVision Technologies Inc. OmniBSI™ is a trademark of OmniVision Technologies Inc. All other trademarks are the property of their respective owners.



CONTACT:

Company Contact:

Scott Foster

OmniVision Technologies

408.567.3077



[email protected]