Research, Design and Development Services
Image Collections are provided in .HDR and .EXR standards.
Press Release Summary: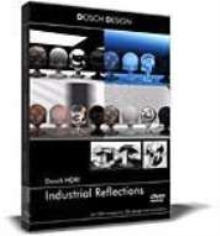 High Dynamic Range Image Collections are optimized for industrial design, technical visualization, and animation. Industrial Reflections offers 60 HDRI environments, which support appearance of metal, glass, car paint, and other industrial surfaces. Radiant Skies contains 113 HDR images of computer-generated skies for reflection and lighting effects. Compatible with Windows and MAC, images are provided in spherical map, light-probe, vertical-cross, and horizontal-cross formats.
---
Original Press Release:

Industrial Reflections & Radiant Skies 2 New HDRI Collections From Dosch Design


Dosch Design has released two new HDRI (High Dynamic Range Image) collections, which are optimized for industrial design, technical visualization and animation.

"Dosch HDRI: Industrial Reflections" is a valuable source of 60 high-quality HDRI environments which support the appearance of metal, glass, car paint and any other industrial surface.

"DOSCH HDRI: Radiant Skies" contains 113 HDR images of computer generated skies for spectacular reflection and lighting effects.

The high resolution HDR images are provided in the most widely used formats: Spherical Map (Latitude-Longitude), Light-Probe (Angular Map), Vertical-Cross and Horizontal-Cross. And each HDR image is provided in the two industry standards .HDR and .EXR.

Radiosity - and therefore the use of HDRIs is directly supported in many 3D-applications like 3dsmax 6, VizRender 2005, Viz 2005, Lightwave (version 6.0 and higher), Softimage|XSI, Maya & Mentalray, Pixar RenderMan, Autodesk VIZ4, messiah:render (Arnold), InSight (Integra), 3dsmax & VRay, 3dsmax & Brazil r/s (Splutterfish), 3dsmax & finalRender (Cebas), Cinema4D Version 8.1, Vue5, Lightwork Render System, Flamingo 2.0 and more.

The products are compatible with Windows and MAC computers and are priced at 119.00 USD / 99.00 EUR, each.

Direct link to the products:

http://www.doschdesign.com/products/hdri/Industrial_Reflections.html

http://www.doschdesign.com/products/hdri/Radiant_Skies.html

About Dosch Design
Dosch Design (www.doschdesign.com) offers computer graphics products for 3D design, advertising, print materials, 3D animation and multimedia presentations. Dosch Design is dedicated to providing finely detailed, high-quality products at an attractive price. Product ranges include complete 3D models (Dosch 3D), surface materials (Dosch Textures), high dynamic range images (Dosch HDRI), 2D objects for visualization (Dosch VizImages), layered images (Dosch LayerFX), animated movie sequences (Dosch Movie-Clips), and music and sound effects (Dosch Audio).

Contact-Information:
Europe USA
Dosch Design GmbH
Attn: Sebastian Dosch
Gotthard-Schuell-Str. 14
97828 Marktheidenfeld - Germany
Phone +49-(0)9391-91 58 53
Fax +49-(0)9391-91 58 54
Email: info@doschdesign.com
Web www.doschdesign.com

More from Agricultural & Farming Products