Image Acquisition Board is compliant with 64-bit PCI bus.
Press Release Summary: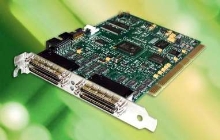 Model X64-LVDS is compatible with 8, 10, and 12-bit LVDS and RS-422 digital area or linescan cameras and supports up to 8 taps of 8 bits each. On-the-fly tap correction expedites image processing and analysis. Featuring image acquisition rates up to 600 Mb/s and image transfer to host memory at 528 Mb/s, Model X64-LVDS provides up to 32 Mb of local buffer memory. It supports fixed and variable size frames ranging up to 256 K horizontal pixels per line.
---
Original Press Release:
Coreco Imaging Introduces X64-LVDS Image Acquisition Board

Montreal, Quebec (August 16, 2004) - Coreco Imaging, a leading developer of high-performance machine vision components and services, today announced the availability of the X64-LVDS, a high-performance, 64-bit image acquisition board for parallel output digital area and linescan cameras compatible with LVDS (EIA-644) and RS-422 standards. The X64-LVDS is the newest addition to Coreco Imaging's powerful X64 Series of Camera Link frame grabbers for the 64-bit PCI bus.

The universal PCI slot compliant X64-LVDS (32/64-bit 33/66MHz 3.3/5V) is compatible with eight, ten, and 12-bit LVDS and RS-422 digital area or linescan monochrome or RGB cameras, and supports up to eight taps of eight bits each. On-the-fly tap correction expedites image processing and analysis.

Featuring rapid image acquisition rates of up to 600MB/s and image transfer to host memory at 528MB/s, the X64-LVDS also provides up to 32MB of local buffer memory. This facilitates concurrent transfer operations at different rates, yielding optimal utilization of system bandwidth.

To accommodate highly complex applications, the X64-LVDS supports infinite vertical length frames from a linescan camera. The board also supports fixed and variable size frames ranging up to 256K horizontal pixels per line, and up to 16 million vertical lines per frame for area scan cameras. Precise timing controls allow frame size adjustments in steps of eight pixels/steps for horizontal lines and in steps of one line/step vertically.

Like other image acquisition boards in the X64 Series, the X64-LVDS has been engineered within Coreco Imaging's Trigger-to-Image Reliability framework to ensure highly reliable and efficient acquisition control throughout the entire image capture sequence. This exacting technology framework leverages Coreco Imaging's hardware and software innovations to control and monitor the image acquisition process, from the time that an external trigger event occurs to the moment the data is transmitted to the PCI bus.

To ensure the integrity of the captured image, the X64-LVDS features a trigger input and strobe and exposure control output signals that synchronize image captures with external events. Optional opto-coupled, interrupt-driven input and output control modules allow the X64-LVDS to react to external inputs more rapidly and predictably to increase the quality of the acquired images.

Extensive software support

The X64-LVDS is supported by Coreco Imaging's Sapera LT Software for acquisition and control and Sapera Processing Software for image processing and analysis, enabling X64-LVDS applications to be developed for Windows NT, Windows 2000 and Windows XP. Sapera LT allows users to develop applications with C language DLLs, C++® classes or Active X®controls for Microsoft® Visual Studio 6.0, Microsoft C++ 7.0 (Visual Studio.Net) or Visual Basic 6.0 development platform.

Sapera Processing Software for image processing and analysis is a dynamic, Windows-based programming library that is fully integrated with Sapera LT functionality. The software offers a comprehensive set of optimized tools, (as a standalone) including Image processing, Search (pattern matching), OCR, Blob Analysis and Barcode decoding. Sapera Processing Software is designed to simplify vision application development, is hardware independent, is based on a set of high performance C++ classes and uses MMX, SSE (streaming SIMD Extensions), and SSE2 to meet the challenging operational requirements of today's imaging systems.

The X64-LVDS is available immediately. Please contact Coreco Imaging for OEM pricing.

About Coreco Imaging

Coreco Imaging is the world leader in the design, development and marketing of computer vision products. Our customers are equipment manufacturers who use our products to improve quality control, productivity and competitiveness. The company sustains an impressive investment in the product development of new vision processors, smart cameras and computer vision algorithms, keeping it at the forefront of technology. With over 170,000 installations and 25 years of industry experience, the company has operations in Montreal, QC, Boston, Ma., and Vancouver, BC with additional sales offices in San Juan Capistrano, CA, Vancouver, BC and Tokyo, Japan an is publicly traded on the Toronto Stock Exchange (TSX) under the symbol of CRC.

Kumi Verma

Marketing Communications Manager, Intl.

Tel: +1-514-333-1301

E-mail: kverma@corecoimaging.com
More from Health, Medical, & Dental Supplies and Equipment