Illuminated Pocket Scopes from Aven Allow Clear, Precise Inspection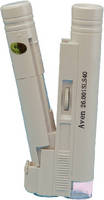 ANN ARBOR, Mich. - Carry-along microscopes for industrial and research applications are more sophisticated than their convenient size may suggest. The latest models of these precision optical instruments offer magnification up to 50x, sharp resolution, measurement capability and built-in illumination.

Lightweight portability makes the professional-grade tools useful for quality control inspections of incoming parts, assembly samples, printed circuit boards, publishing materials and fibers. They're also handy for forensic investigators, field biologists and geologists, printers, gemologists and educators.

Five pocket-size microscopes are featured by Aven, Inc., a global distributor of optical inspection equipment and high-performance tools. Four provide internal light for bright, clear examination of small objects and areas by engineers, tool makers and scientists working on location. Additionally, a clear acrylic base lets ambient light reach examined objects.

Aven's flip-open illuminated model with an angled viewing tube (shown in photo) has 40x magnification and a measuring range up to 4mm. Three other battery-operated illuminated pocket scopes with 20x, 30x and 50x magnification are from Carton Optical Industries, which also manufactures full-size microscopes, binoculars, telescopes and ophthalmic instruments.

The product line also includes a pen-size 25x scope with pocket clip and a metric measurement glass reticle. A beveled clear base opening gathers and focuses ambient light.

Each instrument is powerful enough to detect hairline cracks, assembly flaws, off-register printing and other imperfections.

For more information, call (734) 973-0099 or visit www.aveninc.com.

Aven, Inc. is an international source of high-performance precision tools and optical inspection systems for industrial, scientific, research and education applications. More than 750 products include alignment tools, video inspection systems, magnifiers, precision knives, "smart tweezers," pliers and cutters, illumination equipment and stainless steel hand tools.

An electronics innovator since 1983, Aven is located in a high-tech corridor of Southeast Michigan and is the parent company of SharpVue, which designs and manufactures integrated digital microscope technology.

More from Waste Management & Waste Handling Equipment