Illuminated Knobs make indicator characters visible.
Press Release Summary: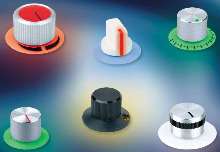 Industrial illuminated knobs, offered in various sizes and styles, make indicator characters viewable in any ambient light. Illumination is accomplished via SMD LEDs on flexible PCB strip inside figure dial made of lightguide material. All marking is done on underside of dial. Custom knobs are available with illuminated indicator lines, dots, or characters within knob itself. LED colors are red, yellow, orange, green, blue, and white.
---
Original Press Release:
Elma's New Industrial Illuminated Knobs Improve Visibility of Indicator Characters
FREMONT, California, Nov. 11, 2003 - Elma Electronic, a leading designer and manufacturer of rotary components and electronic packaging products, has announced a new line of Industrial illuminated knobs in various sizes and styles. The new line makes viewing of the indicator characters easier, even in darkness. This unique, new product range is a complete system to illuminate the figure dial under a knob. Illumination is accomplished via SMD LEDs on a flexible PCB strip inside a figure dial made of proprietary lightguide material. The illumination of the lightguide figure dial makes viewing of the indicating characters easier in all ambient light conditions, from a dark room to sunlight. Standard lightguide figure dial marking is available off the shelf, and customer-specific marking is available. All marking is done on the underside of the dial so there are no problems with character deterioration over time. This is as close to permanent print marking as possible. The Lighting Sets (lightguide figure dial and flexible LED strip) are designed to be used with the extensive array of standard Elma knobs in the 20 to 30 mm sizes in several styles. Additionally, the Lighting Sets can be used in conjunction with other manufacturer's knobs. Custom knobs are available with illuminated indicator lines, dots, or characters within the knob itself. As an additional option (for use with Elma's knobs), a knob skirt with single viewing window is available. The skirt's window highlights only one, illuminated character on the figure dial at one time for exact position selection. By allowing only one indicating character to show at any given time, there is little chance of confusing the switch or potentiometer setting. Standard LED colors are super-red, yellow, orange, green, blue and white. Mixtures of colors are available as a special order, as are colored lightguide figure dials. Pricing is in the mid $2.00 range in larger quantities and lead time is 2-4 weeks ARO. About Elma Electronic Elma Electronic Inc. is a leading manufacturer and supplier of enclosures, backplanes, cabinets, cases, and "ready-to-run" packaging for CPCI, Rugged COTS, VME/64x, VXI, PC and custom bus structures. Elma's component product line offers a wide selection of top quality switches knobs and LED arrays. The company has been a worldwide supplier of dependable, high performance products for over 35 years. Elma operates three facilities in the continental United States plus has locations in Switzerland, Germany, France, the United Kingdom and Israel. Elma Electronic Inc. is located at 44350 Grimmer Blvd., Fremont, CA 94538 USA. Telephone (510) 656-3400 - Fax (510) 656-3783. www.elma.com
More from Electrical Equipment & Systems