Illuminated Inspection Microscope provides auto focus option.
Press Release Summary: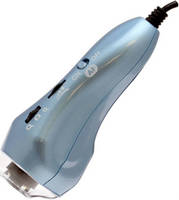 To meet diverse inspection needs, Auto-Focus Mighty Scope employs 2 MP CMOS sensor and 4 brightness-controllable LEDs and offers optical magnification that is adjustable up to 80x (320x on 22 in. monitor via USB connection). Continuous focusing mode lets operators keep product or specimen in sharp view automatically, even as working distance and magnification change. Handheld instrument also offers single-focus and manual focus modes as well as automatic gain control and white balance.
---
Original Press Release:

Aven Auto-Focus Mighty Scope Offers Aim-and-View User Ease



ANN ARBOR, MI – A newly upgraded Auto-Focus Mighty Scope from Aven, Inc. expands the magnification tool's focusing options for diverse inspection needs.



For the first time, this hand-held instrument has a continuous focusing mode that lets operators keep a product or specimen in sharp view automatically, even as working distance and magnification change. This is particularly useful for laboratory work and inspecting different areas of a sizable sample.



A single-focus mode is available for situations when the Mighty Scope remains stationary. Users simply focus once and proceed with multiple examinations and image captures of an item or series of same-size objects.



Lastly, a manual focus mode allows full control and viewing flexibility as the operator moves from task to task.



"Auto-focus capability helps technicians or inspectors become more productive in high-volume settings," says Aven president Mike Shahpurwala. "It turns the compact Mighty Scope into an aim-and-view instrument, just as an automatic camera simplifies point-and-shoot photography."



Applications include parts inspection, manufacturing quality checks, research, precision repairs, forensics, printing and textile registry, science education, appraisals, warranty claims documentation and other recordkeeping.



Optical magnification is adjustable up to 80x, or 320x on a 22-inch monitor via a USB connection.



The Auto-Focus Mighty Scope has a two-megapixel CMOS sensor and four brightness-controllable LEDs for sharp images and video capture. Automatic gain control and white balance assure accurate color reproduction.



A Microtouch shutter button eliminates the need to tap a computer key, whether Aven's Mighty Scope is hand-held or mounted on an adjustable stand that's included.



The new model is compatible with Windows XP and Vista 7.



Aven's product line includes nine other digital Mighty Scopes with magnification up to 500x and an analog model (10x to 200x). Specialized models have a choice of polarizers, near-infrared illumination and UV lighting.



For more information, call Aven at (734) 973-0099. A digital catalog is at http://www.aventools.com/sales-info.html.



Visit Aven at Booth 4154 of Automation Technology Expo West (ATX West) at the Anaheim Convention Center from Feb. 12-14, 2013.



Aven, Inc. manufactures and distributes high-performance optical instruments and precision tools for microscopy, inspection and assembly. More than 800 products include video inspection systems, integrated portable microscopes, video borescopes, task lights and stainless steel tools for lab use and precision hand tools such as tweezers, pliers, cutters, screwdrivers, crimpers, knives and alignment tools. Brands include Mighty Scope, iLoupe, iVue, Technik and Accu-Tek.



An electronics innovator since 1983, Aven is located in a high-tech corridor of Southeast Michigan.

More from Chemicals & Gases