Illuminance Spectrophotometer takes multiple measurements.
Press Release Summary: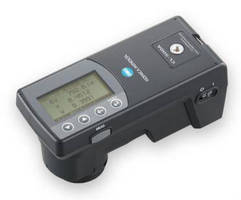 Designed for use without PC, CL-500A can measure illuminance, chromaticity, color temperature, and CRI. In addition to LED and OLED markets, RoHS-compliant light measurement product can be used in R/D and color inspection of projector light sources, digital signage, and any application where measuring total flux or light distribution characteristics is required. Additional features include handheld form factor, onboard display, and Excel add-in software that fosters data analysis.
---
Original Press Release:

Konica Minolta Sensing Launches New CL-500A Illuminance Spectrophotometer



RAMSEY, N.J. -- Konica Minolta Sensing Americas, Inc. (KMSA), the worldwide leader in the industrial measurement of color, light and 3D shape, announces the launch of its newest light measurement product, the CL-500A Illuminance Spectrophotometer.

Available in February 2012, the CL-500A joins Konica Minolta's legendary line of illuminance meters. This includes the T-10A series and CL-200A, both of which have been labeled the meters of choice by lighting professionals. The CL-500A was developed not only to measure illuminance, but also to aid in the spectral evaluation of next generation lighting technologies. LEDs and OLEDs are huge growth markets that have been expanding worldwide in the last several years becoming the preferred technology in a variety of lighting applications.

"This instrument is what our customers have been waiting and asking for since the LED movement began. As the leader in light measurement, professionals always come to us to understand and learn how to properly characterize LEDs and OLEDs. Today, we have answered the call by providing the CL-500A. This unit can do it all; from illuminance, to CRI ( color render index) and spectral measurements. All of this within one simple, easy to use device," stated Joe Esteves, Regional Sales Manager for Konica Minolta Sensing Americas.

In addition to the LED and OLED markets, the CL-500A can also be used in the R&D and color inspection of projector light sources, digital signage and any application where measuring total flux or light distribution characteristics are required.

CL-500A Main Features:

1. CRI (Color Rendering Index)

In addition to the measurement of illuminance, chromaticity and color temperature, the CL-500A is also capable of CRI measurements. CRI is a quantification of the color rendering properties of a lamp or light source. It was defined to provide objective criteria to express the comparison of color appearance effects between the light source being tested and a standard illuminant. Expressed as a maximum value of 100, the value decreases as the color rendering difference increases; this indicates how far the appearance under the test light source is from the natural color appearance under sunlight.

2. All-In-One Design

The CL-500A was designed to be used without a PC. Its small, handheld form factor and onboard display make taking measurements simple.

3. Data Management Software

While measurements can be viewed onboard, the CL-500A also comes with an easy to use Excel add-in software enabling further analysis of data.

4. RoHS Conformance

The CL-500A was designed to be environmentally safe by conforming to RoHS (Restrictions on Hazardous Substances Directive) enacted by the European Union.

5. Conformance

The CL-500A is the first compact, lightweight, handheld illuminance spectrophotometer to conform to both DIN 5032 Part 7 1985 and JIS C 1609.1=2006 General Class AA standards. This ensures that the instrument provides the highest measurement accuracy.

Visit Konica's all new website sensing.konicaminolta.us/products/cl-500-illuminance-spectrophotometer/ for more details and to request a quote.

Stay connected with Konica! Friend us on Facebook, Follow us on Twitter, and Watch us on YouTube

About Konica Minolta Sensing Americas, Inc

Konica Minolta Sensing Americas, Inc. (KMSA), a wholly owned subsidiary of Konica Minolta Holdings USA, Inc., is recognized as the international leader of industrial color, light and shape measurement. The company is responsible for product lines that continuously revolutionize how visual perception is measured by the world.

An industry pioneer, as well as innovator, Konica Minolta Sensing developed and introduced the first portable color measurement units to the world. Presently, their catalog contains instruments such as portable colorimeters as well as portable and benchtop spectrophotometers for color measurement, spectroradiometers and lux meters for light/display measurement and 3D non-contact scanners for shape measurement.

Thousands of companies across the globe choose to depend on Konica Minolta Sensing equipment when color, light or 3D measurement is vital to the manufacturing process. Konica Minolta Sensing's products can be found in a wide array of industries including food, plastics, paints, coatings, automotive, aerospace and cosmetics.

Konica Minolta Sensing's Ramsey, New Jersey corporate headquarters is fully equipped with a state of the art service center, 3D scanning laboratory, tech support center, and a focused sales force dedicated to both the North American and South American regions.

When it comes to color, light and shape measurement - the world looks to Konica Minolta.

Lou Carulli
Marketing Manager
Konica Minolta Sensing Americas, Inc.
+1-201-785-2413
lcarulli@se.konicaminolta.us
http://sensing.konicaminolta.us

More from Fluid & Gas Flow Equipment