Ignition System requires card scan to start vehicles.
Press Release Summary: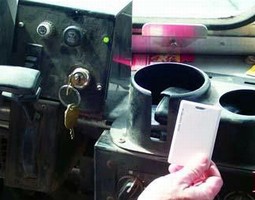 Keyless Ignition Simple System (KISS) provides 2nd level security to trucks, buses, and equipment by replacing ignition key start-up with lighted start/stop button. Button becomes enabled with company radio frequency identification (RFID) cards. Card Acceptance cause lighted button to become green enabling it to then be pressed to start vehicle. System consists of RFID reader module, PCB module, illuminated button, and relay module.
---
Original Press Release:
Use your Company RFID Card to Enable Vehicle Ignition
KEYTROLLER, LLC. introduces a new KISS (Keyless Ignition Simple System) designed to give a 2nd level of security to trucks, buses and equipment. KISS is available in two versions, one eliminates ignition key with a lighted START/STOP button. The button is enabled with operator's company RFID card. Operation is simple, just flash RFID card over dash, button is illuminated green if card is accepted --press lit button to start engine and press again to stop. The 2nd version is wired to just enable the ignition key further improving security. The KISS system consists of: 1) RFID reader module---easily hid behind any plastic or fiberglass dash 2) PCB module---mounted under dash 3) Illuminated button---mounted in a hole in the dash 4) Relay module--- connected to vehicle ignition switch or anti-theft wireless relay connected ignition circuit. Optional: Advanced feature PCB module includes: real time clock, usage event logging, hour meter and wireless data transmission. The KISS system can be installed to any type vehicle. Applications include: 18 wheelers, delivery trucks and vans, construction equipment, and forklifts.
More from Fasteners & Hardware