ifm efector's ClassicLine I/O Module for AS-i Networking Eliminates the Need for Mounting Tools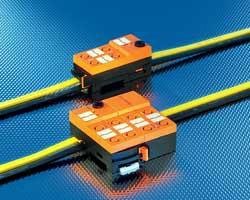 EXTON, PA - November 10, 2006 - ifm efector's Actuator Sensor- interface (AS- i) ClassicLine
I/O module eliminates the need for mounting tools and provides a simple connection method to
the AS- i networking system. With its "quick zip" connection technology, the ClassicLine I/O
module is equipped with a simple sliding mechanism that quickly connects the module's upper
and lower parts. The sliding mechanism is located on the side of the module and is manually
moved from left to right to connect the module to the AS- i system. The ClassicLine's integrated
DIN-rail mounting bracket further simplifies installation in control cabinets.

To address the inherent problem of cable orientation, the ClassicLine module can accept an AS-i
cable in three different directions to provide flexible cable routing. The integrated addressing
port allows setup and addressing while connected in the system. All controls and LED indicators
are located on the front display and indicate signal status, operating voltage and faults. The I/O
provides additional diagnosis such as peripheral faults, short circuit and output overload,
communication fault, and the logic state of the PLC outputs.

The DC modules are available in a variety of designs that include up to four input/output
configurations and eight input configurations. List prices for the ClassicLine I/O modules range
from $130.00 to $220.00 (U.S.).

For additional information on the ifm efector AS-I ClassicLine I/O module and other ifm efector
products, contact ifm efector inc., 782 Springdale Drive, Exton, PA 19341. Tel: 800-441-8246 o
Fax: 800-329-0436 o Website: www.ifmefector.com.

ifm efector inc. is a premier technology partner for sensors and controls. Products include
proximity switches, photoelectric sensors, fiber optics, condition monitors, speed monitors,
pressure sensors, flow sensors, temperature sensors, level sensors, valve position sensors, mobile
control solutions, ID systems, AS- i networking and Safety at Work products.


More from Sensors, Monitors & Transducers