IFH Offers New Special Product Package Fluid Storage & Dispensing System for Safe Handling of Corrosive Chemicals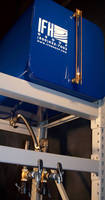 Rock Falls, IL, June 22, 2009 - The IFH Group now offers a Special Product Package version of its Fluid Storage and Dispensing System that improves lubricant storage by providing a better way to handle all kinds of oils, lubricants and industrial fluids that is easier, safer, cleaner, and more cost efficient than 55 gallon drums.

The Special Product Package is designed for applications involving corrosive chemicals and other abrasive fluids that require special handling for safety and efficiency. The standard PVC sight gauge on the front of the steel containers is replaced with a Glass Sight Gauge equipped with ball check fittings at both ends. Underneath the containers are 3/4" NPT fittings and Flex Steel Hose for resistance to fluids that may damage the PVC hose on standard IFH systems.

The Special Product Package can be supplied with new IFH fluid storage and dispensing systems or as a retrofit to existing systems.

"The IFH Group recognizes the importance of providing customized designs to meet each customer's specific needs and ensure that they get a system that will work for their particular application," said Larry King, Midwest Regional Sales Manager. "The engineering time involved in the customization process is completely cost free. No extra charges are incurred for special designs, only for additional special equipment."

About the IFH Group

The IFH (Innovative Fluid Handling) Group designs and manufactures fluid storage & dispensing systems for oil and lube rooms as well as mobile lubrication carts to provide an easier, safer and cleaner alternative to clumsy, messy and wasteful 55-gallon drums for handling oils, lubricants and other industrial fluids. IFH systems eliminate the cost of wasted space, time, labor, fluids and unnecessary equipment purchases.

For more information, contact

The IFH Group, Inc.,

3300 East Route 30, P.O. Box 550,

Rock Falls, IL 61071.

Tel: 800-435-7003;

Fax: 815-626-1438;

info@ifhgroup.com.

Or visit www.ifhgroup.com

Reader Service Inquiries: Please e-mail to Larry King (info@ifhgroup.com) or mail to
Larry King at The IFH Group, Inc., 3300 East Route 30, P.O. Box 550, Rock Falls, IL 61071.


More from Software