IEF System facilitates sample loading.
Press Release Summary: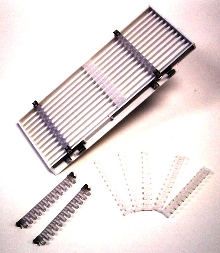 Cup loading option for sample loading into rehydrated IPG (Immobilized pH gradient) strips is available for PROTEAN® IEF (isoelectric focusing) System. Suitable for separation of proteins at extreme pH ranges, cup loading improves sample uptake into ReadyStrip(TM) IPG strips. Disposable cups are available in strips of 12 in either 100 or 150 microliter volume sizes. Adjustable electrodes will accommodate IPG strips up to 24 cm long.
---
Original Press Release:

New Cup Feature Facilitates Sample Loading in IEF Protein Separation Systems


Hercules, California, April 19, 2002 - Bio-Rad Laboratories, Inc. introduces a new cup loading option for easy sample loading into rehydrated IPG (Immobilized pH gradient) strips on the PROTEAN® IEF (isoelectric focusing) System. Ideal for the separation of proteins at extreme pH ranges, cup loading improves sample uptake into Bio-Rad's ReadyStrip(TM) IPG strips, for better resolution during first-dimension IEF. The convenient, disposable cups are available in strips of 12 in either 100 or 150 microliter volume sizes. Adjustable electrodes will accommodate IPG strips up to 24 cm long.

Bio-Rad Laboratories, Inc. is a multinational manufacturer and distributor of life science research products, clinical diagnostics and analytical instrumentation, based in Hercules, California. The company serves more than 70,000 research and industry customers worldwide through a network of more than 30 wholly-owned offices. For more information, call 800-424-6723 or visit the company's web site at www.discover.bio-rad.com.

Debbie Guadarrama, Bio-Rad Laboratories, 2000 Alfred Nobel Drive, Hercules, CA 94547. Email: Debbie_Guadarrama@bio-rad.com

More from Controls & Controllers