IEC Appliance Outlet features IDC terminals.
Press Release Summary: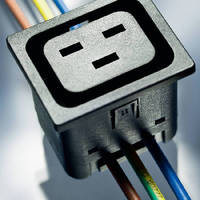 Featuring insulation displacement contact terminals, Model 4710 is a J style outlet according to IEC 60320, rated 20 A at 250 Vac by UL/CSA and 16 A at 250 Vac by ENEC. Unit provides IDC terminals for 10 AWG/6.0 mm² in addition to 12 AWG/4.0 mm². Able to fit panels from 0.8–3 mm thick, snap-in outlet is qualified for use in applications designed to IEC/EN 60950, including power distribution units and other equipment where multiple outlets are banked in series.
---
Original Press Release:

Outlet with IDC Terminals Speed Assembly for Power Distribution Units



Santa Rosa, California, – SCHURTER announces its latest IEC appliance outlet with insulation displacement contact (IDC) terminals, the 4710. The new outlet provides increased power ratings over the popular 6610 series for heavier duty PDU applications.



The 4710 is a J style outlet according to IEC 60320, rated 20A @ 250 VAC by UL/CSA and 16 A @ 250 VAC by ENEC. The lower current version, 6610 series, is a style F outlet, rated 15A @ 250 VAC and 10A @ 250 VAC respectively. The 4710 provides IDC terminals for 10 AWG/ 6.0 mm2 in addition to 12 AWG/4.0 mm2, which is the standard wire size for the 6610. The new wire option allows for larger diameter wire for the 4710's increased power capabilities. The snap-in outlets fit panels with a thickness between 0.8mm and 3mm.



The 4710 and 6610 outlets are qualified for use in applications designed to IEC/EN 60950. Ideal for use in power distribution units, and other equipment where multiple outlets are banked in series, these IDC outlets allow wires to be bussed across the terminals, thereby connecting common terminals all at once and significantly reducing labor costs. The IDC terminals are arranged either a long or across the connector pin axis for a horizontal or vertical mounting orientation. Wires are pressed into place with the protective back cover or with a tool. Versions with combination IDC and a quick-connect or solder terminal, for separate wiring of the line connection, are also available.



The outlets are offered with light pipe options for status indication. They also mate with V-Lock latching cordsets designed to prevent unintentional disconnection from the power. Approvals include cURus, ENEC and CCC.



Pricing starts at just $1.67 each per 100 pieces. Packaging is 50 pieces per box. Data sheet and additional information are available at: 4710.schurter.com/. For sales and product information, contact Cora Umlauf at (800) 848-2600 or by email at info@schurterinc.com.



About SCHURTER Inc.

SCHURTER is a progressive innovator and manufacturer of Circuit Protection, Connectors, Switches, and EMC Products to the electronic and electrical industries worldwide. SCHURTER's three divisions: Components, Input Systems and Electronic Manufacturing services are formed to provide customer specific products and services, which focus on clean and safe supply of power and making equipment easier to use. These core competencies bring a high degree of innovation to SCHURTER's main markets IT / Telecom, Medical, Space and Renewable Energy.



SCHURTER meets its customers' highest demands through certified quality, environmental and safety management systems including ISO 9001, ISO 14001, OHSAS 18001 and highly developed processes (Six Sigma method). Excellent services are upheld through the consistent application of an all encompassing quality management system.



SCHURTER Inc., Santa Rosa, California is the exclusive North America sales and distribution office for the SCHURTER Group.



SCHURTER INC.

447 Aviation Boulevard

Santa Rosa, CA 95403

Telephone 707 636 3000

Facsimile 707 636 3033

www.schurterinc.com



EDITORIAL CONTACT:

Suzanne Bowser

sbowser@schurterinc.com



Related