Identification System issues secure ID documents in minutes.
Press Release Summary: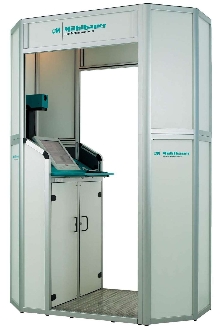 Quick center, for biometric ID document production, consists of ID CAB 500 data capture terminal combined with MIDGET 540 personalization system, for ID1 format, or Identifier 540, for ID3 format. Product is designed for instant issuing of tamperproof smart ID documents based on any material and with any type of graphic and electronic personalization. System captures traditional keyboard input and photographs as well as all types of biometric data.
---
Original Press Release:

Mühlbauer's Revolutionary Quick Center for ID Document Production: Issue Highly Secure Biometric ID Documents in Any Format and Based on Any Material In Just Minutes


Hanover, March 18th 2004

In the global effort to build a more effective security infrastructure, an increasingly critical issue to governments throughout the world is the use of forged identity documents at border crossings. In fact, the more sophisticated passports and national documents have become, the more sophisticated the forgeries have also become. As a consequence, detecting false ID documents is now more difficult than ever.

e-Passports and smart national ID documents, which allow to match live biometric data with data stored on the credential, seem to offer the most advanced solution to the problem, as they allow to unequivocally link the document to the rightful bearer and are virtually tamperproof.

Temporary ID documents - often issued in substitution of lost or stolen identity and travel documents and which already today tend to be the easiest to forge and tamper with - represent a dramatically weak link in the chain. In many countries, especially those where legislation foresees that stolen or lost documents must be replaced within days, they are usually issued at police stations or embassies and do not contain all the security features normally present in these documents.

To overcome these problems, Mühlbauer has developed a solution for biometric ID document production, specifically designed for the instant issuing of tamperproof smart ID documents based on any material and with any type of graphic and electronic personalization.

Mühlbauer's revolutionary quick center for ID document production consists of the ID CAB 500 data capture terminal combined with a state-of-the-art personalization system: the MIDGET 540 for the ID1 format (smart cards) or the Identifier 540 for the ID3 format (smart passports). It is the ideal solution for issuing ID documents in decentralized locations - such as police stations, embassies and consulates - and is suitable for the production of documents in any type of material and format: contact or contactless smart cards, e-passports, e-visa and other ID documents storing biometric data.

Designed to capture traditional keyboard input and photographs as well as all types of biometric data (iris, fingerprint, face and/or signature data), the ID CAB 500 transmits the input securely to the system used for the personalization of the document.

The MIDGET 540 card personalization solution used for the issuing of ID1 format documents is based on state-of-the-art technology, which allows to issue highly secure cards made of i.e. Polycarbonate material. The MIDGET 540, equipped with magnetic stripe encoding, chip contact and (optional) contactless encoding stations, a diode pumped gray-scale laser system and an integrated card turning station for engraving both sides of the card, delivers a high quality, tamperproof card or smart card in less than a minute.

For electrical and optical personalization of ID3 documents (passports) the Identifier 540 is equipped with a (optional) contactless encoding station and a diode pumped gray-scale laser system to encode any type of RFID chip and to personalize holder pages made i.e. of Polycarbonate in high resolution and unbeaten grayscale mode quality.

State-of-the-art laser technology, availability of all common laser based security features and Mühlbauer's well known handling and positioning accuracy, guarantee the issuance of high quality and tamperproof documents in the shortest time.

Mühlbauer is a global, independent consultant and manufacturer of turnkey automation solutions for the smart card, smart label, semiconductor backend and vision industries. In addition, the company is active in the areas of precision parts and OEM production. With about 1,250 employees in 20 locations on five continents, Mühlbauer is a leading supplier of production equipment for the smart card industry.

Mühlbauer solutions enable to manufacture any type of chip card, including ID cards, contact and contactless cards, dual interface as well as multimedia cards and smart labels for access control, supply chain management, tracking of textiles and applications for the retail industry.

Information on Mühlbauer is available on the Internet at www.muehlbauer.de

For further information, please contact:
Werner Sobek
MÃHLBAUER AG
Werner von Siemens Str. 3
93426 Roding - Germany
Tel: +49 9461 952 422
[email protected]