Ideas Welcome at Booth 841: Northwire "Lab 360" Launch Continues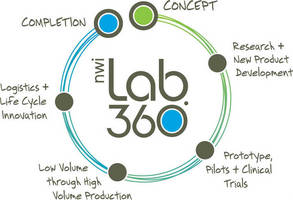 Show attendees can meet Northwire engineers, learn about NWI's Lab 360 engineering model, and see product solutions that improve businesses and lives

CHARLOTTE, N.C. - Those attending the Design and Manufacturing South Show should gather their design ideas and bring them to Booth 841. That's where engineers from Northwire, Inc. (NWI), will be available to demonstrate the company's new "Lab 360" model - unveiled in February at the Pacific Design and Manufacturing Show - to explore how those ideas can efficiently and cost-effectively go from "blue sky" into functioning products that meet customer requirements. Northwire-NWI Lab 360 is the premier partner for design, original equipment, and contract manufacturing of custom technical products for diverse markets.

Developed by Northwire in response to customer demand, Lab 360 is an engineering model that takes the customer's idea from concept through completion. The disciplined process is designed to engage the customer and translate their requirements during every process step to ensure exact specifications are delivered.

"Our dynamic, multi-media booth will include an 85-inch SMART(TM) Board with the interactive Lab 360 model. We will demonstrate how an attendee's idea will evolve, from concept to completion through the iterative process phases of research and development, new product development, prototypes, pilot models, clinical trials, low volume through high volume production, life cycle innovation, and logistics," explained Mike Schauls, Northwire's vice president for sales engineering.

Schauls said NWI's Lab 360 professionally certified subject matter experts leverage our operational platforms and their corresponding tool sets, including Design for Six Sigma, Six Sigma, Lean, Project Management, and American Society for Quality to achieve the shortest lead times for any volume.

"Northwire's operational platforms are enhanced by our quality platforms, including ISO 13485:2003, ISO 9001:2008 certifications and ISO 17025 Qualified," Schauls said. "Those visiting the Northwire booth will have access to iPads® to facilitate communication and launch the Lab 360 process. The booth also features a "Faces of Northwire" storyboard that shows how Northwire product solutions - developed collaboratively with customers - positively impact the world...saving lives, saving animals, and reuniting families."

"It's easy to conclude that Northwire is an original equipment and contract manufacturer," said Michael Conger, Northwire president. "But when customers share stories about how our products make their remote field operations more reliable and have saved them six figures in maintenance and repair or that our rapid response helped our customer repair a major issue and avoid six figures worth of liquidated damages, we recognize that we are a strategic supply-chain partner - saving our customers' money and letting them focus on the front end of their business. We are proud to be part of our customers' successes." Custom products delivered in five days or fewer, quotes in 24 hours or less, rapid solutions for connectors, assemblies, and contract manufacturing available upon request.

Northwire is ISO 13485:2003-and ISO 9001:2008-certified and is engaged in professional company-wide certifications in Six Sigma, Lean, Project Management, and American Society for Quality. The company's quality control laboratory is a self-qualified CSA testing facility under ISO 17025. This laboratory subjects the company's products to tests that surpass real-world conditions, including the extremes of bending, flexing, flame, impact, crush, oil, and temperature resistance. ITAR registered, Northwire's CAGE Code is 7V821. Northwire also maintains various UL, CSA, IEEE, and MSHA approvals and works closely with supply chain partners to offer FDA-approved and RoHS- and REACH-compliant and food-grade materials.

About Northwire

Northwire, Inc., is celebrating over 40 years of innovation and is a registered woman-owned small business with corporate headquarters and manufacturing in Osceola, Wisconsin, and manufacturing in Santa Teresa, New Mexico. The company is the premier partner in the design, manufacture, and contract manufacturing of custom technical products including cable, retractiles assemblies, and contract manufacturing for diverse applications in life sciences, energy, government, industrial, machine vision, lighting, underwater, and more. Northwire is a member of NDIA (National Defense Industrial Association), NCMA (National Contract Management Association), RIA (Robotics Industries Association), AIA (Automated Imaging Association), Fieldbus Foundation, and WAI (Wire Association International), among others.
For more information, visit www.northwire.com.


More from Construction Equipment and Supplies