ID Authentication System prevents identity theft.
Press Release Summary: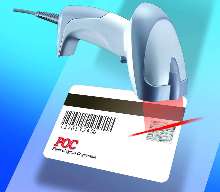 Real-time OptiKey(TM) Authenticity Verification System matches optical signature of ID card or document to perfectly matched structure found in optical reader/correlator and prevents copying or duplication of ID labels, identification cards, media, or documents. Analog authentication process creates unique signature in submicron optical master that is embedded in ID label. Portable optical reader comes as handheld or swipe-card system.
---
Original Press Release:

Physical Optics Corporation Introduces ID Authentication System


January 21, 2004 -Torrance, CA - Physical Optics Corporation (POC), a leader in opto-electronic solutions for OEM, government/military, and commercial applications introduces OptiKey(TM), an optical authenticity verification system. The revolutionary, new verification technology has a real-time capability to precisely match an optical signature of an ID card or document to a perfectly matched structure found in the optical reader/correlator. With the OptiKey system, optical ID labels, identification cards, media and documents are impossible to successfully counterfeit, copy or duplicate.

"OptiKey offers a new solution to the mounting counterfeiting and identity theft problems that are plaguing not only our country, but the rest of the world," notes Rick Shie, Senior Vice President of Physical Optics Corporation. "With over 27 million Americans reporting identity theft in the past five years, the need for secure ID validation is critical. True optical authentication can now be achieved without the need for a central database or the need for human interaction, making our authentication system affordable and accessible to industry."

The OptiKey analog authentication process creates a unique signature in a submicron optical master. The optical master signature is embedded in the ID label, which is then verified in real time by a perfectly matched optical structure found in the optical reader. Portable and affordable, the optical reader is available as a hand-held or swipe card system. Applications for the new OptiKey system include: credit cards, driver's licenses, ID labels, employee security cards, passports, currency and product authentication such as CDs and DVDs. POC's OptiKey identification authentication system is ready for OEM business and licensing and can be previewed at www.poc.com."

POC (Physical Optics Corporation) based in Torrance, California, has been developing "technologies that make a difference" since 1985. POC has emerged as a global leader in a changing optoelectronics marketplace, secured by major technological advancements and expertise in holography, information systems and photonics instrumentation. Privately owned, Physical Optics Corporation has 100 employees, 82 U. S. Patents, over 40 technologies and has launched 6 spin-off companies. For more information about Physical Optics Corporation, please visit: www.poc.com

More from Materials