ICS forms, fills, and closes trays and cartons.
Press Release Summary: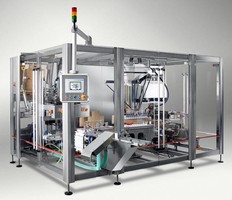 Consisting of 3 modules, Integrated Cartoning System (ICS) features lightweight carbon fiber lock tools, adjustable glue tools, powered carton hopper, and size change functionality, and is capable of forming cartons from flat blanks either with or without hinged lid. Closing module features rubber fingers for carton control and offers various closing options. System is available in 300 ppm single, double, and 900 ppm triple race track formats.
---
Original Press Release:

Brand New to North and South American Makets; The 'ICS' - Integrated Cartoning System



The Bradman Lake Group is proud to introduce the 'ICS' to the American markets, a flexible and advanced solution to top load cartoning.

A single unit consisting of three modules, the ICS is designed to form, fill and close trays and cartons, and eliminates the requirement for three separate machines and their associated space requirements.

Capable of forming cartons from flat blanks either with or without a hinged lid; lock style or 4 corner glue cartons; and the opening of pre-glued cartons, the ICS offers all the features of the Bradman Lake Groups 'AMI Erector'. These include lightweight carbon fibre lock tools, adjustable glue tools, powered carton hopper and quick size change functionality.

The ICS loading module incorporates the agility of the LJ series and is available in single, double and triple race track formats. Capabilities range from up to 300 ppm on a single racetrack up to 900 ppm on a triple racetrack format.

The closing module, the third function of the ICS, features technology developed for the 'Compact R Closer' such as rubber fingers for carton control and quick size change performance. The closing module has been developed to offer an unprecedented level of flexibility. Closing options include the closing of cartons with a hinged lid; front flap glue or tuck-in; separate lid closure; and the folding or gluing of 4 upper flaps.

These features combined make the ICS the epitome of flexibility. Small and economical, this machine is designed to adjust to the challenges facing the food manufacturing industry in today's competitive marketplace.

One of the key features of the ICS is its small footprint and modularity which allows this system to fit into small spaces and adapt to meet the customer's requirements for both the feed and discharge of products and cartons.

Depending on the customer's requirement, the ICS can be specified within a wide range of frames. The machine is also capable of processing a variety of packaging materials, which means that our equipment works in synchronicity with their changing designs and innovations allowing it to remain at the forefront of 21st century packaging design and technology.

To enhance the performance of the ICS further, all change components are lightweight and have quick change locking handles. Minimising downtime, short format change-over times and simple maintenance sets the ICS apart in terms of time efficiency.

The concept the Bradman Lake Group introduces to ICS is 'simplicity'. Combining three pieces of equipment to provide an integrated top load cartoning solution has its obvious benefits, but the ability to provide the outstanding benefits of space, versatility and performance is proving so powerful that the system has been sold several times within the past weeks alone.

Once again, the Bradman Lake Group proves that its strength lies in diversity. The knowledge and experience the Group has in delivering integrated packaging solutions (from design, production, installation through to maintenance) positions it ideally to meet even the most demanding challenges of today's packaging machinery environment.

Technical Information:
Overall dimensions;
Width 3.850 mm
Depth 4.825 mm
(hopper 1.975 mm)

Related