ICL900 Lithium Battery Chargers feature output voltage of 57 V.
Press Release Summary: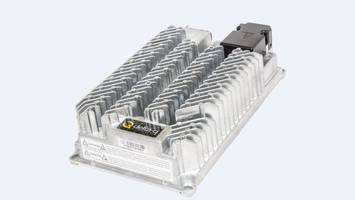 ICL900 Lithium Battery Chargers are used to charge battery systems of lithium-ion chemistry from 9 to 15 cells in series. Products utilize lithium algorithms and controller area network communications. Units are suitable for scooters, floor care machines, lift trucks, and sports and utility vehicles applications. These AC input chargers are IP 66 rated and can be operated on single-phase electrical grid. ICL900 is suitable for original equipment manufacturers and comes with field replaceable cable design.
---
Original Press Release:
Delta-Q Technologies Expands Family of Lithium Battery Chargers for Electric Vehicles and Industrial Machines
New charging solutions provide superior reliability and charge quality for electric vehicles; meets touch-safe charging standards
Delta-Q Technologies (Delta-Q), a leader in battery charging solutions for electric drive vehicles and machines, announced today the introduction of their new ICL900 lithium battery charger - expanding their family of lithium battery chargers to create the ICL Series.
The new ICL900 is a 900-watt charger, designed to optimally charge lithium battery systems of any lithium-ion chemistry from 9 to 15 cells in series. Delta-Q's new lithium charger is suitable for use on any electric machine including scooters, floor care machines, lift trucks, and sports and utility vehicles.
"We are pleased to announce the expansion of our lithium charging line. Our products are designed to meet the evolving needs of our customers while providing reliability and long-term performance. The new ICL900 is a perfect complement to our OEM customers as they incorporate lithium technologies into their products" says Trent Punnett, Delta-Q's vice president of sales, marketing, and product management.
The ICL900 has a maximum output voltage of 57V and uses custom lithium algorithms to optimize battery performance and life to meet tough application requirements. The ICL900 also uses Controller Area Network (CAN-bus) communications and carries a comprehensive set of global regulatory approvals, including touch-safe requirements for the European electric vehicle market.
Featuring a wide AC input range, the charger can operate on any single-phase electrical grid around the world. With a fully customizable, field replaceable cable design, the new ICL900 provides original equipment manufacturers (OEMs) with flexibility in design and deployment.
The ICL900 is highly reliable and provides an IP66 rating to protect against dirt and fluids, while its mechanical design and component selection resists vibration, shock and temperature extremes.
Delta-Q Technologies is now accepting sample requests for the ICL900. Visit www.delta-q.com to learn more
. About Delta-Q Technologies
Delta-Q Technologies is a leading provider of battery charging solutions that improve the performance and reliability of electric drive vehicles and industrial equipment. The company has become the supplier of choice to many of the world's leading manufacturers of electric golf cars, lift trucks, aerial work platforms, outdoor power equipment, motorcycles and scooters, floor care machines, and utility and recreational vehicles. Delta-Q is headquartered in Vancouver, Canada with a local presence in the U.S., Europe and Asia. For more information, please visit www.delta-q.com.
More from Communication Systems & Equipment