IC Ball Bonder offers 35 µm fine pitch capability.
Press Release Summary: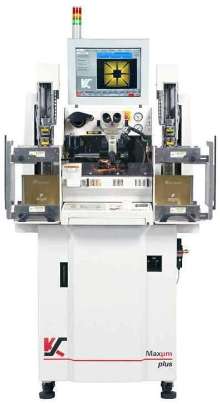 MaxµmplusT Ultra High Speed Ball Bonder incorporates 2.20 x 2.60 in. bonding area, S-Scan imaging technology, µT-Sonics(TM) transducer, and Precision-Arc(TM) EFO system. Servo control system for X-Y Table reduces wire cycle times to 63.0 msecs, and Precision-touchT bondhead technology delivers optimum bond force control. Teaching and calibration software delivers bond placement accuracy to 2.5 µm, and wire feed path handles wire diameters down to 15 µm.
---
Original Press Release:

New Ultra High Speed Ball Bonder from Kulicke & Soffa; MaxµmplusT Sets A New Standard in IC Ball Bonders


Offers 10% Improvement in UPH over Maxum and 35um Fine Pitch Capability

Willow Grove, PA - January 9, 2004 - Kulicke & Soffa Industries, Inc. (K&S) introduces the MaxµmplusT Ultra High Speed Ball Bonder for all types of ultra-fine pitch applications including 35 micron in-line pitch. Based on the technology of K&S' market-leading Maxum IC Ball Bonder, the Maxµmplus establishes a new benchmark for fine pitch wire bonders by delivering bond placement accuracy of 2.5µm, at speeds up to 10% faster than the Maxum.

An improved servo control system for the X-Y Table reduces wire cycle times to 63.0 msecs. Performance is maintained for the largest bonding area available in the market - 56 mm (2.20") x 66 mm (2.60"). Precision-touchT bondhead technology delivers optimum bond force control. Advanced teaching and calibration software improves overall accuracy to 2.5µm. The Maxµmplus also incorporates a reduced-friction wire feed path with the capability to handle wires down to 15µm diameter.

Other significant features of the Maxµmplus include:

- S-Scan Advanced Imaging Technology increases overall process productivity while enhancing the performance of all vision operations by utilizing field-proven vision engine and algorithms.

- µT-SonicsTM Transducer delivers optimal dynamic response with the lowest impact forces and ultrasonic energy levels, minimizing pad disturbance while maintaining highest shear values.

- A Precision-ArcTM EFO System, that enhances EBC (Electronic Ball Control) delivery, combines with a new Small Ball Detection capability to provide the highest repeatability in FAB (Free Air Ball) formation available in the market.

The Maxµmplus offers a variety of wire bonding processes including standard loop, GBA2, worked loop, J-wire loop, SSB and other fine pitch processes. It works with a variety of bonding wire such as AW-66, AW-99 and AW-99X. This new IC ball bonder is engineered to work with the new K&S' CIC capillary to address specific applications.

As the fastest wire bonder in the world with 35µm capability, the Maxµmplus leads the industry in productivity and sets the standard for handling the most challenging applications in production today.

Kulicke & Soffa (Nasdaq: KLIC) is the world's leading supplier of semiconductor assembly and test interconnect equipment, materials and technology. We offer unique wire bonding solutions, combining wafer dicing and wire bonding equipment with saw blades, die collets, wire and capillaries. Flip chip solutions include wafer bumping services and technology. Chip scale and wafer level packaging solutions include Ultra CSP® technology. Test interconnect solutions include standard and vertical probe cards, ATE interface assemblies and ATE boards for wafer testing, as well as test sockets and contactors for all types of packages. Kulicke & Soffa's web site address is < www.kns.com/ > www.kns.com.

More from Sensors, Monitors & Transducers