iBOS® Basic Management System helps operators in selecting correct battery.
Press Release Summary: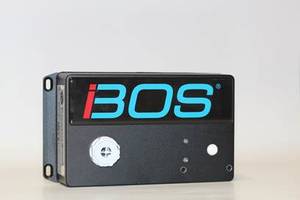 Used for alerting forklift operators when wrong battery is selected, iBOS® Small Basic Fleet Battery Room Management System can manage up to 50 chargers within a single pool of batteries with same voltage. Featuring bright blue 'pick light' for indicating correct battery selection, unit can be easily installed by warehouse staff. Product is suitable for small warehouses and DCs.
---
Original Press Release:
Philadelphia Scientific Introduces iBOS® Basic, Featuring an Audible Alarm in a Small Fleet Battery Room Management System
iBOS Basic joins iBOS Lite, iBOS Plus and iBOS Pro in the industry's leading line of battery room management systems.
Philadelphia Scientific, The Lean Battery Room Experts™, has introduced iBOS® Basic, a small fleet battery room management system that provides the convenience of an audible mispick alarm to alert forklift operators when the wrong battery has been selected. iBOS® Lite and iBOS Basic bring affordable battery room management to smaller warehouses and DCs. iBOS® Plus and iBOS® Pro provide unparalleled battery room management for larger fleets.
"Many managers of smaller battery and charger fleets have difficulty cost-effectively managing these assets without a battery management system," said Harold Vanasse, vice president of sales and marketing for Philadelphia Scientific. "But, most available systems are made for larger fleets and are more costly. iBOS Basic and iBOS Lite can both manage up to 50 chargers within a single pool of batteries of the same voltage used for the same type of forklift truck. Both systems feature a bright blue 'pick light' to indicate the correct battery to select. But, iBOS Basic adds an audible alarm that serves as an operator behavior modification tool, ensuring selection of the correct battery in the pool.
"With iBOS Basic and iBOS Lite, warehouses and distribution centers with small fleets can increase productivity and save money in three ways: faster battery changes; less frequent battery changes; and longer-lasting batteries, reducing the frequency of battery purchases."
iBOS Basic can be quickly and easily installed by warehouse staff. And, owners of iBOS Lite units can quickly upgrade these units with the iBOS Basic audible alarm.
"Battery room management systems offer the biggest potential for significant cost savings in the battery room," said Vanasse. "They have been proven to save tens, even hundreds of thousands of dollars in battery maintenance and replacement costs for larger fleets."
For more information on iBOS Basic and the full line of iBOS battery room management systems, contact Philadelphia Scientific at +1 215-616-0390 or info@phlsci.com.
About Philadelphia Scientific
Since 1983, Montgomeryville, Pa.-based Philadelphia Scientific has brought advanced technology solutions to the industrial battery industry. The company specializes in the research, design, development and manufacture of industrial battery components and tools that maximize battery performance. For more information about Philadelphia Scientific, visit the company's Web site at www.phlsci.com or contact the company at 215-616-0390.