IAX/SIP Softphone supports T.38 faxing capabilities.
Press Release Summary: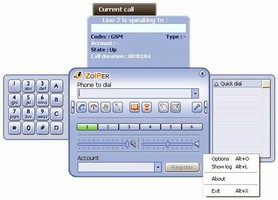 Equipped with Faxterisk faxing functionalities, Zoiper v2.12 (Biz edition) can receive faxes through SIP with any T.38-capable system. Windows-based software communications application is designed for businesses, is compatible with Asterisk or any SIP-based IP-PBX, and offers QoS functionality. In addition to TCP/TLS support with SIP, solution offers TLS with SRTP support, automatic provisioning (XML), URL handling, and native conferencing capabilities.
---
Original Press Release:

Zoiper Softphone Now Supports Faxing



The 2.12 version of the popular IAX and SIP softphone boasts new capabilities

Belgium, 9.1.2008
Attractel Ltd., a leading VoIP company
Attractel today released the newest version of its IAX and SIP softphone: Zoiper 2.12 for Windows. The new version includes various additions (and fixes), the most outstanding of which is the T.38 faxing capabilities.

Zoiper incorporates the faxing functionalities of Faxterisk, Attractel's T.38 implementation into the Asterisk open source platform. Now Zoiper can receive faxes through SIP with any T.38 capable system. This new capability is part of Attractel's strategy to promote Zoiper as a reliable business choice of software communications application. Future versions of Zoiper softphone will support full faxing functionalities.

Apart from faxing, the latest Zoiper additions include: TLS with SRTP support; certificate system reset option (Biz edition); support for Yealink chipset-based headset/USB phones (such as Corinex, US Robotics, etc.); QoS functionality: DSCP fields for signalling and media; Improved Zoiper Biz certificate system, and more. Zoiper users are recommended to upgrade to the new 2.12 version for Windows.

Zoiper is a multi-platform IAX and SIP softphone, compatible with Asterisk or any SIP-based IP-PBX. It is available in Free and Biz editions. Most important features of the paid Biz version include: Receiving of T.38 Faxes, TCP/TLS support with SIP, Automatic provisioning (XML), URL handling, Outlook/Thunderbird Integration, Native conferencing, API, Attended transfer, Changeable number of lines and more! Both Zoiper editions are also available for either Complete or Basic customization packages.

About Attractel

Founded in 2004, Attractel is a leading technology company of Unified Communication Technologies and Solutions. Attractel is seated in Belgium and Bulgaria and has customers worldwide. Specialized in VoIP (Voice over IP) applications, Attractel has developed a coherent and leading set of solutions and platforms to support the Enterprise and Internet Telephony Service Provider industry.

For more details on Zoiper, visit http://www.zoiper.com/

For more details on Attractel, visit http://attractel.com/

More from Laboratory and Research Supplies and Equipment