I/O Validation Tools support Intel Atom micro server designs.
Press Release Summary: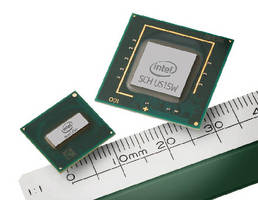 Taking advantage of Intel's embedded instrumentation technology, ScanWorks® HSIO for Intel® Architecture can non-intrusively validate signal integrity of high-speed I/O and memory buses without placing physical probe on bus. Software-based toolkit supports all Intel processor platforms, including Intel Core(TM) processors for desktop, mobile, and ultrathin laptops; Intel Xeon® processors for servers, embedded and communications, and storage systems; and Atom processors for micro servers and SoCs.
---
Original Press Release:

ASSET ScanWorks High-Speed I/O Validation Tools are First for Intel Atom Micro Server Designs



Richardson, TX - Designers of micro server circuit boards based on the Intel® Atom(TM) processor now have for the first time a tool capable of non-intrusively validating the signal integrity on high-speed input/output (HSIO) and memory buses. The ScanWorks® platform for embedded instruments from ASSET® InterTech is the first design validation tool for Intel Atom designs that does not rely on placing a physical probe on a bus to monitor its signal integrity.

ASSET (www.asset-intertech.com) is the leading supplier of validation, test and debug tools for embedded instrumentation.

Over the last eight years, Intel and ASSET have collaborated on validation and test tools which deliver extensive visibility of the signal integrity on high-speed buses in order to overcome the shortcomings of legacy intrusive probe-based test equipment such as oscilloscopes and logic analyzers. Because buses with speeds in excess of 5 gigabits per second (Gbps) become super-sensitive to capacitive coupling effects, the signaling on these buses is distorted when a physical probe is placed on them. To counteract this, Intel developed and is implementing an instrumentation technology that is embedded in its advanced chips. ASSET's ScanWorks HSIO for Intel Architecture (IA) is the first and only non-intrusive software-based toolkit to take advantage of Intel's embedded instrumentation technology.

"The speed of memory and I/O buses on micro server designs is just as critical to the throughput of the system as is the speed of the Intel Atom processor itself," said Tim Caffee, ASSET's vice president of design validation and test. "Thoroughly validating these types of designs requires advanced tools that do not require physical access to the bus. Most of these designs do not provide test pads or points on the buses because they only introduce anomalies into the signaling and degrade its performance. That's why non-intrusive tools like ScanWorks are becoming a necessity."

The ScanWorks HSIO validation tools now support all of Intel's processor platforms, including Intel Core(TM) processors for desktop, mobile and ultrathin laptops, Intel Xeon® processors for servers, embedded and communications, and storage systems, and now Atom processors for micro servers, system-on-a-chip (SoC) and other types of systems. ASSET is a key third party vendor (TPV) to Intel.

"The buses on Intel Atom micro server designs have the same kinds of issues as the high-speed buses have on other Intel platforms," Caffee said. "During the last eight years, we've developed a close working collaboration with Intel. Now, it's paying off for Intel Atom designers with a fourth-generation product."

Availability

ScanWorks High-Speed I/O (HSIO) for Intel® Architecture (IA) based on Intel® Atom(TM) is available now. For more information, call 888-694-6250, fax 972-437-2826, e-mail ai-info@asset-intertech.com or visit www.asset-intertech.com.

About ASSET InterTech

ASSET InterTech is the leading supplier of tools for embedded instrumentation for design validation, test and debug. The ScanWorks platform provides automation, access and analysis tools in one environment. Users can quickly and easily validate and test chips or circuit boards during every phase of a product's life, including design, manufacturing/repair and field maintenance. ASSET InterTech is located at 2201 North Central Expressway, Suite 105, Richardson, TX 75080.

Follow us on:

Facebook: https://www.facebook.com/ASSETInterTech

LinkedIn: http://www.linkedin.com/company/72397?trk=tyah

Twitter: https://twitter.com/ASSETInterTech

You Tube: http://www.youtube.com/ASSETInterTech

Our blog - Test Data Out: http://blog.asset-intertech.com/

More from HVAC