I/O System features IP67 housing for harsh environments.
Press Release Summary: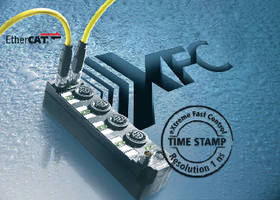 Suited for wet, dusty, and harsh locations, EP1258 EtherCAT® Box can be installed directly on machines, outside of control cabinet. Box detects digital input signals with resolution of 1 nsec, allowing reaction times to be minimized and very fast events to be detected and processed. Measuring 126 x 30 x 26.5 mm, EP1258 provides 8 digital inputs, 100 Mbit/s performance, and supports eXtreme Fast Control® technology in compliance with time stamp method.
---
Original Press Release:

Beckhoff Automation Announces XFC EtherCAT Box, IP 67-rated I/O Modules



Leading edge eXtreme Fast Control® for extreme, harsh environments

MINNEAPOLIS, August 27, 2009 - In order to dramatically improve performance of I/O systems installed in wet, dusty and otherwise harsh locations, Beckhoff Automation has introduced the new EP1258 EtherCAT® Box. With this I/O device, Beckhoff's eXtreme Fast Control® technology (XFC) is now available in a rugged and compact IP 67 housing for installation outside of control cabinets.

There is a wide range of possible application areas for the EtherCAT Box with time stamp, including packaging machinery, assembly and handling machines, as well as conveying equipment. The compact IP 67 design allows installation directly on machines without an extra control cabinet, providing considerable space savings and cost reductions.

The EP1258 XFC box detects digital input signals with a highly precise resolution of 1 nanosecond (ns) directly on the machine. This allows reaction times to be shortened - independent of the control cycle - and very fast events to be detected and processed further without requiring special hardware. This can lead to improved quality and increased productivity of machines.

Extremely fast and very precise, XFC technology from Beckhoff makes best-in-class control architectures possible. The EP1258 EtherCAT Box supports XFC in compliance with the time stamp method, i.e. the binary input signals are assigned a time stamp that states the time of the last change of state with a resolution of 1 ns. Using this technology, signal curves can be precisely reproduced in terms of time and placed in relationship to distributed clocks in the EtherCAT system. The machine-wide, parallel hard wiring of digital inputs or encoder signals for synchronization purposes can usually be eliminated using this technology. The reactions, which are equally spaced in terms of time, are thus independent of the cycle time of the controller, so that even in the case of a short PLC cycle, signal acquisition and processing is possible in the nanosecond range.

As an EtherCAT slave, the EP1258 XFC box can be integrated directly in 100BASE-TX EtherCAT networks. It features eight digital inputs, of which two are designed for applications with a time stamp. The IP 67 module is optionally available with M8 or M12 screw-type sensor connections. Measuring just 126 x 30 x 26.5 mm (H x W x D), the EP1258 retains EtherCAT's high performance of 100 Mbit/s down to each IP 67 box.

For additional information:


EtherCAT Box IP 67 (time stamp) http://www.beckhoff.com/EP1258


EtherCAT Box http://www.beckhoff.com/EtherCAT-Box


XFC http://www.beckhoff.com/XFC

EtherCAT® and eXtreme Fast Control® (XFC) are registered trademarks of Beckhoff Automation.

Beckhoff Automation® provides advanced, open automation products based upon proven technologies so that customers can implement high performance control systems faster and at a lower overall cost than traditional PLC and motion control systems. Beckhoff's "New Automation Technology" product range includes PC based control, industrial PCs, automation controllers, operator interface, I/O, servo drives and motors. With representation in more than 60 countries, Beckhoff is well positioned to provide global sales and service to its customers. Sales and service are handled directly, with no intermediaries involved to provide faster response and improved communications.

More from Adhesives & Sealants