I/O Board is suited for PC/104 based data acquisition.
Press Release Summary: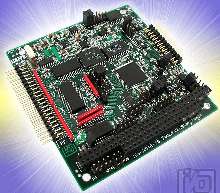 With 16-bit resolution, Model 104-AIO16-16 provides 500 Ksamples/second for its 16 single-ended or 8 true differential analog input channels. Functioning over -40 to +85°C temperature range, multifunction I/O board features 11 standard analog input ranges and filtered front end populated with low-noise components. In addition to direct data transfers, board can trigger A/D in real time, assuring synchronized sampling unaffected by other computer operations.
---
Original Press Release:

New High-Speed, 16-Channel Analog I/O Board Offers Exceptional Price/Performance Value for Precision PC/104 Based Data Acquisition, Control or Signal Analysis


SAN DIEGO, CA-April 28, 2003-ACCES I/O Products announces the immediate release of its newest PC/104 board for data acquisition, control and test and measurement. The high-speed Model 104-AIO16-16 provides 500KHz samples/second, with 16-bit resolution, for the board's 16 single-ended or eight true differential analog input channels. At under $500, the 104-AIO16-16 multifunction I/O board features an excellent price/performance value for precision PC/104-based data acquisition, control or signal analysis of stand-alone environmental test stations, compact production test equipment, portable testers, avionics and other applications.

The low-cost 104-AIO16-16 features 11 standard analog input ranges and a filtered, extremely quiet front end populated with low-noise components. In addition to direct data transfers, the board's ability to trigger the A/D in real time assures synchronized sampling that is unaffected by other computer operations-an essential requirement for signal, vibration and transient analysis where high data rates must be sustained for short periods of time. Sixteen parallel bits of digital I/O round out the mix for a complete, high-performance data acquisition solution. Other features of the Model 104-AIO16-16 include:

· Factory input range/gain options available
· Large input data FIFO for less processor overhead
· EEPROM auto calibration
· Dual 12-Bit digital-to-analog outputs
· Power requirement: +5V @ 240mA, typical w/ DC/DC converter
· Extended operating temperature range: -40C to +85C

An included free software package supports analog-to-digital and digital-to-analog conversion with auto calibration, digital functions with sample programs and source code in "C" and Pascal for DOS, and a graphical option selection setup program in Windows. Linux support includes basic samples for register-level programming in "C." Full 95/98/Me/NT/2000/Xp support and samples are provided for register-level access to the board's features, as well as kernel mode IRQ operations.

ACCES I/O Products, Inc. is a leading manufacturer of PC/104, PCI and ISA analog and digital/relay I/O boards, serial communication products and wireless/remote data acquisition products and accessories. Other PC/104 boards from ACCES include 48-bit digital I/O, 12-Bit A/D & D/A, isolated input/relay output boards (8 or 16 each), and isolated and non-isolated serial communications boards. All hardware comes with a 30-day, no-risk return policy and a three-year warranty. For further information, visit the company's web site at www.accesio.com.

Price: $479.00
Availability: Now
Delivery: Stock to two weeks ARO

For Further Information, Contact:
Marty Wingett or Marc Kryjewski, Reg'l Sls Mgrs
ACCES I/O Products, Inc.
10623 Roselle Street, San Diego, CA 92121
Tel: 858.550.9559 o FAX: 858.550.7322
E-mail: mwingett@accesio.com,
mkryjewski@accesio.com
URL: www.accesio.com

More from Architectural & Civil Engineering Products