I/O and Power Supply Modules supplement RTU capabilities.
Press Release Summary: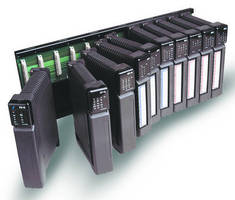 In one module, IO-5 provides 4 analog inputs; 4 digital inputs, of which 2 are 10 KHz counters; 4 solid-state digital outputs; and one analog output. Power supply modules PS-12 and PS-22, which respectively operate over 90-260 Vac and 20-60 Vdc ranges, include processors for voltage monitoring. All modules work with Kingfisher Plus+ RTU, which is based on automation technology for SCADA applications. It features embedded programming environment that complies with IEC 61131-3 and 61499.
---
Original Press Release:

Semaphore Releases New Hardware Modules for RTU Product Line



The Kingfisher Plus+ RTU is an advanced automation technology platform for SCADA applications.

Semaphore's Kingfisher Plus+

Semaphore, a CSE Global company, has released new I/O and power supply modules for the Kingfisher Plus+ SCADA system RTU product line.

In a single module, the IO-5 provides four analog inputs, four digital inputs, two of which are 10 KHz counters, four solid state digital outputs and one analog output. The mix of I/O points makes this module extremely cost-effective compared to those with individual I/O types.

Now also shipping are two power supply modules, the PS-12 and the PS-22. The PS-12 operates over a 90 to 260 VAC input range while the PS-22 operates over 20 to 60 VDC. Both modules include processors for voltage monitoring.

The Kingfisher RTU series is based on an advanced, automation technology platform for SCADA applications. Kingfisher is the only RTU line that features an embedded programming environment that is compliant with both IEC 61131-3 and 61499, as well as an enhanced DNP3 protocol suite, security platform, complete array of communications networks, and advanced functionality including redundancy. Kingfisher Plus+ is a modular RTU that offers expansion up to 192 communications ports and 1024 I/O points.

Semaphore's T-BOX and Kingfisher RTU products are ideal for a broad range of monitoring and control applications in the broadcast/telecom, infrastructure management, oil & gas, power, transportation and water/wastewater industries. For more information about Semaphore solutions, visit www.cse-semaphore.com, or contact Semaphore at 1200 Chantry Place, Lake Mary, FL 32746, 407-333-3235.

About Semaphore
Established in 2006, Semaphore was the result of a merger of two CSE Global companies, RTUnet, of Australia, and TechnoTrade SA, of Belgium. For over 20 years, these companies have provided leading solutions for telemetry, automation, and remote monitoring and have an installed base of more than 70,000 devices. For more information, visit www.cse-semaphore.com.

Semaphore is a wholly owned subsidiary of CSE Global, a worldwide technologies provider in the industrial automation, telecommunications, environmental and healthcare markets. Headquartered in Singapore, it has more than 1500 qualified and technical staff operating a network of over 30 offices in 20 countries, spanning the Americas, Asia Pacific, Europe, Middle East and Africa. Its truly international business landscape is reflected by the fact that more than 90% of annual revenue is derived from outside Singapore. For more information, visit www.cse-global.com.