I²C Switches/Multiplexers provide bus lockup detection.
Press Release Summary: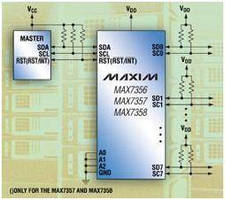 Capable of detecting, isolating, and notifying slave bus lockup conditions, 8-channel MAX7356/MAX7357/MAX7358 use integrated timer to monitor all extended buses, and allow one master to isolate and communicate with slaves that may otherwise have address conflicts. They are specified over -40 to +85°C temperature range, and come in 24-pin TSSOP and TQFN packages. Units suit servers, base stations, data storage, and other applications where multiple I²C devices need to be controlled.
---
Original Press Release:

Industry's Only 8-Channel, I²C Switches/Multiplexers with Bus Lockup Detection and Notification



o The MAX7356/MAX7357/MAX7358 are 8-channel, I²C switches/multiplexers with bus lockup detection, isolation, and notification.

o Capable of detecting lockup conditions on slave buses, these devices allow a master to isolate and communicate with slaves that may otherwise have address conflicts.

o These switches/muxes employ an integrated timer to monitor all extended buses for lockup conditions.

o The MAX7356/MAX7357/MAX7358 are ideal for servers, base stations, data storage, and other applications in which multiple I²C devices need to be addressed and controlled.

SUNNYVALE, CA-November 10, 2008-Maxim Integrated Products (NASDAQ: MXIM) introduces the MAX7356/MAX7357/MAX7358, 8-channel, I²C switches/multiplexers with bus lockup detection, isolation, and notification. These devices enable a master to isolate slaves that may otherwise have address conflicts and to communicate with each of them individually. The MAX7357 and MAX7358 employ an integrated timer to monitor all extended buses for lockup conditions. Additionally, these two parts can be set to send a "flush-out" sequence on the faulty channel to clear the bus lockup condition. The MAX7356/MAX7357/MAX7358 are ideal for servers, base stations, data storage, and other applications in which multiple I²C devices need to be addressed and controlled.

Fully specified over the -40°C to +85°C extended temperature range, the MAX7356/MAX7357/MAX7358 are available in 24-pin TSSOP and TQFN packages. Prices start at $1.37 (1000-up, FOB USA).

Maxim Integrated Products is a publicly traded company that designs, manufactures, and sells over $2 billion of high-performance semiconductor products annually. It was founded over 25 years ago with the mission to deliver innovative analog and mixed-signal engineering solutions that add value to its customers' products. To date, Maxim has developed over 5900 products serving the industrial, communications, consumer, and computing markets. For more information, go to www.maxim-ic.com.

Customer Service: 1-800-998-8800

More from Sensors, Monitors & Transducers