HyperionPlus(TM) Electronic Message Centers: Effective, Flawless, and Affordable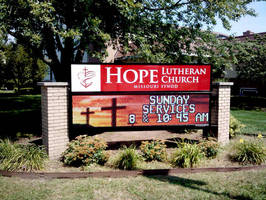 Electro-Matic Products new HyperionPlus line of Electronic Message Centers delivers world-class features unobtainable from any other manufacturer's products. Sign dealers and end users around Metro Detroit are already noticing the product features and services they are receiving.



One of Electro-Matic's most recent projects, in collaboration with Curb Appeal Concepts, Inc, installed at Hope Lutheran Church in Warren, MI received the highest letter of recommendation from the customer.



"I am writing this letter of recommendation to express my sincere appreciation for the wonderful product and services provided to my church and congregation by your company. The new LED church sign you designed and installed is amazing, and far exceeds our expectations. The sign is full featured, easy to program, and has proven to be an effective and visible outreach to the community. Thank you again for the time you spent meeting our needs, designing the sign in conjunction with our public relations team, finding creative ways to lower our costs without sacrificing quality or features, and performing a flawless turnkey installation." ~John Hayman, Head Trustee, Hope Lutheran Church



"Curb Appeal Concepts, Inc. has done a tremendous job incorporating our Hyperion Plus line of electronic message centers into the Metro Detroit marketplace. I  would highly recommend anyone looking for an LED display to contact Curb Appeal."

~James Baker Regional Sales Manager of Visual Products Electro-Matic Products, Inc.



For more information on the latest features the HyperionPlus Electronic Message Center provides or how a digital display can help your business, contact us today! www.empvisualsolutions.com or 866-998-0990.



More from Electrical Equipment & Systems