Hygienic Pressure Transmitters work with gas, steam, liquids.
Press Release Summary: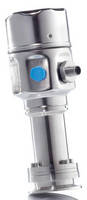 Available with ceramic or metal process isolating diaphragm seals, Cerabar M PMC51 and PMP51 are suitable for absolute and gauge pressure measurements in gases, steams, or liquids as well as level, volume, and mass measurements in liquids. Standard accuracy is 0.15% (0.075% optional), and long term stability is 0.1% of upper range limit (URL)/year and 0.25% of URL/5 years. Able to work in temperatures to 752°F or pressures to 6,000 psi, programmable sensors offer multiple output options.
---
Original Press Release:

Endress+Hauser Introduces New Hygienic Cerabar M Pressure Transmitters for Gas, Steam or Liquids



Cerabar M PMC51 and PMP51 hygienic pressure transmitters have joined the Cerabar M family and are specifically designed to meet the needs of the food and beverage and life sciences industries.

Endress+Hauser introduces Cerabar M PMC51 and PMP51 pressure transmitters, suitable for accurate absolute and gauge pressure measurements in gases, steams or liquids, and for level, volume or mass measurements in liquids.

Standard accuracy is 0.15% with 0.075% accuracy available as an option. Long term stability is 0.1% of URL/year and 0.25% of URL/five years. (URL=upper range limit.)

The Cerabar M transmitters are available with ceramic or metal process isolating diaphragm seals which allow the sensors to work in temperatures up to 752 ºF or pressures up to 6,000 psi.

Outputs include 4-20mA, 4-20mA with HART, Profibus PA and Foundation Fieldbus.

A separate housing option allows the electronics housing with its optional LCD display module to be mounted up to 33 ft from the sensor to avoid problems with vibration, lack of space and high temperature, or if extreme cleaning of the measuring point is required.

In the separate housing version, no special end-user wiring is required. The sensor is delivered with the process connection and a socket. The electronics housing with a socket and a mounting bracket are supplied as separate units. The cable is provided with a socket at both ends. These cable sockets are simply plugged into the housing and the sensor.

A Cerabar M transmitter can be programmed to calculate level, volume and mass in any tank shape by means of a programmable characteristic curve that accounts for level, pressure, density of the medium and gravitation constant. The system can compensate for foam formation, agitators, screen fittings and liquid gases.

The intrinsically safe (Ex ia/IS) transmitters can be used in hazardous areas, including FM/CSA Division 1 installations. Options are available that make the transmitters suitable for gaseous oxygen, hydrogen and ultrapure gas environments, as well as paint shops.

Models include:

· PMP51 has a piezoresistive measuring cell and a metal welded process isolating diaphragm to handle pressures to 6,000 psi.

· PMC51 has a capacitive measuring cell and a ceramic process isolating diaphragm, and provides a metal-free PVDF connection

All versions are compliant with ASME-BPE, have 3A and EHEDG approvals, can be used for process pressure monitoring up to SIL2, and are certified to IEC 61508 Edition 2.0 and IEC 61511 by TÜV NORD.

For more information on the Cerabar M pressure transmitters, please go directly to the product page at: http://www.us.endress.com/cerabar-m-hygienic

About Endress+Hauser
Endress+Hauser is one of the world's leading suppliers of measuring devices, services and solutions for industrial process engineering. In 2011, the company group recorded sales of approx. 1.9 billion dollars with more than 8,800 employees. Endress+Hauser supplies sensors, devices, systems and services for level, flow, pressure and temperature measure¬ment as well as liquid analysis and measured value recording. The company supports its customers with automa¬tion, logistical and IT services and solutions.

Contact: Sara Fisk
Marketing Communications Manager
Endress+Hauser, Inc.
Phone: 317-535-2108
Fax: 317-535-2171
www.us.endress.com