Hydrostatic Transmission targets small-equipment segment.
Press Release Summary: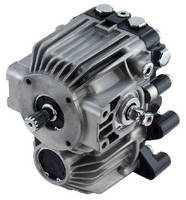 Integrating closed circuit variable displacement piston pump with direct displacement control and fixed motor, LDU20 U-Style Transmission features low operating force of 25 Nm at 2,500 rpm max. Unit measures 170 x 180 x 240 mm high, allowing installation in space-constrained OEM equipment, including turf care machines, compact utility tractors up to 30 hp, and agricultural vehicles. By attaching directly to housing of customer's transmission, Model LDU20 eliminates hosing and piping.
---
Original Press Release:
Sauer-Danfoss Introduces New LDU20 U-Style Transmission
Complete hydrostatic transmission solution offers compact design, best-in-class efficiency, low noise and vibration for small-equipment segment OSAKA, Japan, - Sauer-Danfoss Inc. (NYSE:SHS) Sauer-Danfoss is pleased to introduce the LDU20 U-Style Transmission, a complete hydrostatic transmission package for turf care machines, compact utility tractors up to 22 kW (30 hp) and agricultural vehicles. Integrating a closed circuit variable displacement piston pump with direct displacement control (DDC) and a fixed motor, the compact LDU20 offers OEM equipment designers an easy-to-install solution with best-in-class efficiency, low noise and vibration, and excellent longevity. "We have optimized the package size, performance and the installation cost of the LDU20 to fulfill the demand of OEMs and their end users," said Toshihiro Naruse, Product Marketing Manager for Sauer-Danfoss. "With the market's most compact unit, superior efficiency and design considerations that promote operator comfort, the LDU20 is ideal for applications such as zero-turn mowers, golf equipment, compact and sub-compact tractors, and specialty agricultural machines." Compact Design, Ease of Installation
The LDU20 features the closed circuit variable displacement piston pump and fixed motor contained in a single housing with a U-style layout. At 170 mm long, 180 mm wide and 240 mm high, the LDU20 is the most compact hydrostatic transmission package in its class, allowing for easy installation in space-constrained OEM equipment. While most shaft centerlines in the industry measure more than 100 mm, the LDU20 has a shaft centerline of 85 mm. This is the same as traditional Bantam Duty U-style (BDU) transmissions, and offers more power density than the competition. Developed for vehicles with an external charge source, the LDU20 attaches directly to the housing of a customer's transmission, eliminating hosing and piping for space savings and simplified installation. The utilization of a common charge pump for flow to steering or work function has the added benefit of reducing overall vehicle cost. "The LDU20 offers a smaller package size with greater power density than any comparable product on the market," Toshihiro said. "The compact, simplified configuration benefits OEM machine designers without sacrificing performance for end users." Best-in-Class Efficiency
The LDU20 boasts best-in-class efficiency achieved through the incorporation of a male slipper design. By reducing friction from the piston-cylinder block-bore interface, the LDU20 piston architecture improves fuel efficiency, reduces oil temperature and extends oil life, resulting in overall efficiency of approximately 80 percent. "Our OEM customers place premium value on efficiency because it correlates to the overall productivity and durability of their machines," Toshihiro said. "We fulfilled their need for improved efficiency by developing simply the most efficient hydrostatic transmission package on the market today." Low Noise and Vibration
Transmissions are often installed directly beneath where an operator is seated, where noise and operating vibration can adversely impact comfort and productivity. LDU20 design features reduce noise and vibration to ensure a comfortable working environment for the operator and facilitate compliance with applicable noise regulations. "We prioritized operator comfort and productivity throughout the development process," Toshihiro said. "Design considerations include robust compact housing, suitable valve plate design and a trunnion journal bearing that helps reduce resonance between swash plate vibration and the linkage of the vehicle." Low operating force of maximum 25 N-m at 2500 rpm, 300 bar further ensures a comfortable working environment. Excellent Longevity
The LDU20 offers higher efficiency, lower noise and reduced vibration, which promotes overall higher duty capability. The LDU20 offers a best-in-class kit life. "The most compact design in the class also delivers the best efficiency, highest power density and longest kit life along with low noise and vibration," Toshihiro said. "Add it all up and the LDU20 is a complete hydrostatic transmission package that simplifies OEM design and integration while providing end users the performance, comfort and longevity they demand." About Sauer-Danfoss
Sauer-Danfoss Inc. is a worldwide leader in the design, manufacture, and sale of engineered hydraulic and electronic systems and components for use primarily in applications of mobile equipment. Sauer-Danfoss, with 2011 revenues of approximately $2.1 billion, has sales, manufacturing, and engineering capabilities in Europe, the Americas, and the Asia-Pacific region. More details online at www.sauer-danfoss.com
More from Electrical Equipment & Systems