Hydroprocessing Technology Produces ULSD at a Transmix Processing Facility
Press Release Summary: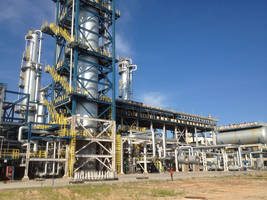 The IsoTherming hydroprocessing  technology from DuPont Clean Technologies is a hydro treater that was recently used at the Gladieux Processing transmix facility in Huntington, Indiana. It can produce 5,000 BPSD of ULSD, ultra-low sulfur diesel, that contains less than 10 ppmw of sulfur. The technology utilizes a novel liquid phase reactor system instead of conventional hydroprocessing technologies, enabling it to more efficiently use hydrogen and catalysts. The IsoTherming is used in hydro-treating applications for kerosene, transmix and diesel.
---
Original Press Release:
DuPont IsoTherming Hydroprocessing Technology Enables Gladieux to Produce ULSD at Transmix Processing Facility
Further Reducing Environmental Impact in USA
WILMINGTON, Del. (PRWEB) September 27, 2018
DuPont Clean Technologies (DuPont) is pleased to announce the successful startup of one of the world's first IsoTherming® hydroprocessing technology applications to treat diesel from a transmix processing facility. Transmix is a mixture of refined products that forms when transported in pipelines. This mixture is typically a combination of gasoline, diesel and/or jet fuel. The IsoTherming® hydrotreater, located at the Gladieux Processing (Gladieux) transmix facility in Huntington, Indiana, USA, has successfully completed the performance test, certifying that the unit is exceeding performance guarantees and producing 5,000 BPSD of ultra-low sulfur diesel (ULSD) containing less than 10 ppmw sulfur.
Capital cost advantages, as well as comparatively lower utility consumption, were key drivers for Gladieux's selection of the IsoTherming® hydroprocessing technology for this project. "With implementation of the global marine fuel sulfur cap, we needed a swift, cost-effective hydrotreating solution for the diesel stream from our transmix processing facility," said Tim Wagner, president of Gladieux. "DuPont™ IsoTherming® hydroprocessing technology really fit our needs perfectly in that we were able to realize less capital cost than with a conventional hydrotreater, with the added benefit of reduced operating expense. We really thank all who Gladieux worked with on the DuPont team from the first meeting through contract discussions to the startup. DuPont personnel assisted from the beginning to the end. We look forward to working with DuPont on future projects."
"We are pleased to partner with Gladieux on implementation of one of the world's first IsoTherming® hydroprocessing units in a transmix application," said Shane Presley, technical service and development manager, DuPont Clean Technologies. "The successful startup of this modular transmix unit demonstrates strong dedication by both Gladieux and our technical services team as they worked together to achieve a safe and successful startup."
The IsoTherming® hydroprocessing technology utilizes a novel liquid phase reactor system that is superior to conventional hydroprocessing technologies, as it uses the hydrogen and catalyst more efficiently. The IsoTherming® hydroprocessing technology offers lower capital and operating costs compared to conventional hydroprocessing technologies in achieving the desired product quality. The IsoTherming® hydroprocessing technology is suitable for a wide range of applications, including kerosene hydrotreating, transmix hydrotreating, diesel hydrotreating, FCC feed hydrotreating (VGO hydrotreating), mild hydrocracking, dewaxing, gas-to-liquid (GTL) upgrading, and heavy oil upgrading for both grassroots and revamp configurations.
To date, DuPont has 26 IsoTherming® hydroprocessing technology licenses globally, with 15 of these in commercial operation. These licensed units include a diverse set of applications ranging from 100 percent kerosene to 100 percent light-cycle oil (LCO), and various mixtures of distillates and heavy gas oils, including coker blends, with capacities ranging from 1,500 bpd to 80,000 bpd.
Growing global demand for cleaner transportation fuel continues to drive refiners toward operations that maximize hydroprocessing capacity and capability either through unit debottlenecks or new unit construction. More stringent environmental regulations and the processing of cost-advantaged sour and heavy feedstocks make meeting this demand even more challenging. Licensed and marketed by DuPont as part of its Clean Technologies portfolio in Overland Park, Kansas, USA, the IsoTherming® hydroprocessing technology provides a proven solution to meet this growing global demand.
About DuPont Clean Technologies
DuPont Clean Technologies applies real-world experience, history of innovation, problem-solving success and strong brands to help organizations operate safely and with the highest level of performance, reliability, energy efficiency and environmental integrity. The Clean Technologies portfolio includes the MECS® sulfuric acid production and regeneration technologies; the IsoTherming® hydroprocessing technology for desulfurization of motor fuels; the STRATCO® alkylation technology for production of clean, high-octane gasoline; the BELCO® air quality control systems for FCC flue gas scrubbing and other refinery scrubbing applications; the MECS® DynaWave® technology for sulfur recovery and tail gas-treating solutions; and a comprehensive suite of aftermarket service and solutions offerings. Learn more about DuPont Clean Technologies at http://www.cleantechnologies.dupont.com.
About DowDuPont Specialty Products Division
DowDuPont Specialty Products, a division of DowDuPont (NYSE: DWDP), is a global
innovation leader with highly differentiated materials, ingredients and capabilities that help transform industries and everyday life. DowDuPont Specialty Products includes five
technology-driven businesses: Electronic Technologies, Industrial Biosciences, Nutrition & Health, Protective Solutions and Sustainable Solutions. Our employees apply diverse science and expertise to help customers advance their best ideas and deliver real-world products and smart solutions across multiple high-value markets. DowDuPont intends to separate the Specialty Products Division, which will be called DuPont, into an independent, publicly traded company. More information can be found at http://www.dow-dupont.com.
More from Fluid & Gas Flow Equipment