Hydrophobic Windows suit harsh and humid environments.
Press Release Summary: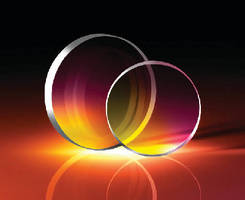 Designed to resist liquid absorption or wetting, TECHSPEC® Hydrophobic Windows utilize proprietary hydrophobic surface that causes liquid to form droplets on contact, rather than be absorbed or spread across surface. Anti-reflective coatings provide less than 0.4% reflection per surface from 425–675 nm. Available in 7 models from 5–75 mm diameter, windows exhibit contact angles of greater than 107° and maintain contact angles of greater than 100°, even after moderate surface abrasion.
---
Original Press Release:

TECHSPEC® Hydrophobic Windows Ideal for Use in Harsh or Humid Environments



Coated to cause liquid to form droplets on surface



Barrington, N.J. - Edmund Optics® (EO), the premier provider of optical components, introduces its new TECHSPEC® Hydrophobic Windows. These windows are ideal for use in harsh or humid environments for a wide variety of applications that would experience humidity or water exposure, including outdoor sights and scopes.



TECHSPEC Hydrophobic Windows are designed to resist liquid absorption or wetting, which simplifies handling and cleaning. The windows utilize a proprietary hydrophobic surface to cause the liquid to form droplets on contact, rather than be absorbed or spread across the surface of the window. 



Anti-reflective coatings provide <0.4% reflection per surface



TECHSPEC Hydrophobic Windows feature anti-reflective coatings to provide less than 0.4% reflection per surface from 425-675 nm. The windows exhibit contact angles of greater than 107°. In order to minimize performance loss, TECHSPEC Hydrophobic Windows are designed to maintain contact angles of greater than 100°, even after moderate surface abrasion.



Seven models available with diameters from 5 mm-75 mm



TECHSPEC Hydrophobic Windows are available in seven models with diameters from 5 mm to 75 mm. All models are in-stock and available for immediate delivery for fast turnaround and excellent value.



About EO:

Edmund Optics® (EO) is a leading producer of optics, imaging, and photonics technology for R&D, electronics, semiconductor, pharmaceutical, biomedical, and military markets around the globe. EO is the world's largest supplier of off-the-shelf optical components. Customers can purchase items by contacting EO at 1-800-363-1992, via the catalog, or via the website at www.edmundoptics.com



Company Contact:

Kirsten Bjork-Jones

Director Global Marketing Communications

Edmund Optics®, Inc.

101 East Gloucester Pike

Barrington, NJ 08007 U.S.A.

Phone: 1-800-363-1992

Fax: 1-856-573-6295

email: kbjork-jones@edmundoptics.com



European Contact:

Agnes Huebscher

Director European Marketing

Edmund Optics

Zur Giesserei 8

76227 Karlsruhe, Germany

Tel.:   +49 (0)721-62737-38

Fax:   +49 (0) 721 6273750

E-Mail:   AHuebscher@edmundoptics.de

More from Electrical Equipment & Systems