Hydronic Geothermal Heat Pump uses vapor injection technology.
Press Release Summary: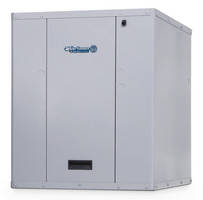 Offering efficiencies up to 16.1 EER and 3.3 COP, 5 Series 504W11 Energy Star®-rated water to water heat pump operates in heating-only or heating/cooling mode and leverages OptiHeat vapor injection technology. Latter creates exiting water temperatures up to 150°F using additional heat exchanger that diverts excess heat and reinjects it into system. Additional system components include Copeland scroll compressors, R410-A refrigerant, and Aurora communicating controls platform.
---
Original Press Release:

WaterFurnace Introduces 5 Series 504W11 Hydronic Geothermal Heat Pump with OptiHeat Vapor Injection Technology



Fort Wayne, IN – WaterFurnace International, Inc., the leading manufacturer of geothermal and water source heat pumps, introduces the 5 Series 504W11 hydronic geothermal heat pump, featuring WaterFurnace's patent-pending OptiHeat vapor injection technology.



While most hydronic geothermal systems generate 130°F water, OptiHeat creates exiting water temperatures up to 150°F, thanks to an additional heat exchanger that diverts excess heat and reinjects it into the system. This provides increased heating capacities and greater efficiencies. This product is the first water to water heat pump for the North American market to feature vapor injection technology.



"OptiHeat was the result of strategic research and development, including customer feedback," said Tim Litton, director of marketing communications, WaterFurnace International, Inc. "Combined with other innovative features, the 5 Series 504W11 offers consumers highly efficient heating capabilities in a very small footprint. It's the most efficient, Energy Star rated water to water heat pump available on the market."



Offering efficiencies up to 16.1 EER and 3.3 COP, the 5 Series 504W11 is ideal for high-temperature applications, such as baseboard radiator systems, underfloor radiant applications, overfloor radiant applications, and fan coils. The units can operate in heating-only or heating/cooling modes.



Copeland scroll compressors – double isolation mounted for quiet operation – combine with R410-A refrigerant and an extra heat exchanger to provide exceptional efficiency, reliability and energy savings.



WaterFurnace's Aurora communicating controls platform provides simple setup, troubleshooting and diagnosis. Additionally, WaterFurnace's Aurora Interface Diagnostic (AID) tool simplifies service and diagnostics for contractors, thanks to its external communication port that does not require opening the unit. IntelliStart, an optional soft starter, can reduce start-up amperage by up to 60 percent of normal draw, reduce noise, eliminate light flicker and increase compressor life.



The 5 Series 504W11's cabinet is fabricated from heavy-gauge steel, while a professional-grade textured finish provides long-lasting protection. Control panels can be placed on either end, which allows piping to be located on the front or back and helps improve serviceability.



To learn more, visit the WaterFurnace website at www.waterfurnace.com.



More Information:



WaterFurnace International, Inc. is a leading manufacturer of residential, commercial, industrial and institutional geothermal and water source heat pumps. Although it earned a reputation as a leader in geothermal heat pumps, WaterFurnace has worked in recent years to innovate new technologies, integrate key trends and grow the core business to represent a portfolio of clean and sustainable solutions. WaterFurnace was founded in 1983, and the company is headquartered in Fort Wayne, Ind.



For the latest news and updates from WaterFurnace, connect with us on your favorite social media sites – follow us on Twitter (@WaterFurnace), like us on Facebook or view the WaterFurnace YouTube Channel. Additional information about the Company and its products is available at www.waterfurnace.com.



Related links:



WaterFurnace - http://www.waterfurnace.com/



geothermal - http://www.waterfurnace.com/geo_energy.aspx



heat pumps - http://www.waterfurnace.com/geothermal-heat-pumps.aspx



5 Series 504W11 - http://www.waterfurnace.com/products.aspx?prd=504W11

More from Sensors, Monitors & Transducers