Hydrogen Generator Set provides clean power for utilities.
Press Release Summary: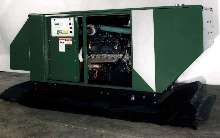 Ecostar(TM) hydrogen fueled, internal combustion engine driven genset offers alternative to small turbines or combustion engines using other fuels. It is capable of producing 114 kVA of power at several voltage levels and phase options, and is based upon standard 6.8 liter Ford production engine that has been modified for hydrogen use.
---
Original Press Release:

Ballard Power Systems and Ford Power Products Unveil the World's First Hydrogen Generator Set


For Immediate Release - August 7, 2002 Joint Release
Dearborn, Mich. - Ballard Power Systems (TSX:BLD; NASDAQ:BLDP) and Ford Power Products, the powertrain sales office of Ford Motor Company, today jointly introduced and demonstrated Ballard's Ecostar(TM) hydrogen generator set ("genset"), the world's first hydrogen fueled internal combustion engine driven genset.

The Ecostar(TM) hydrogen genset will be the cleanest combustion generator on the market. This environmental profile makes the genset an attractive alternative to small turbines or combustion
engines using other fuels. The initial market for this product will be utilities for peak power applications.

"Working with Ford Power Products, we are proud to demonstrate Ballard's leadership in the introduction of revolutionary, clean, power generation solutions," said Ross Witschonke, Vice
President and General Manager of Ballard's Electric Drives & Power Conversion Division. "In addition to providing our customers with clean, siteable power, this new product will provide Ballard with early revenue opportunities, will increase public awareness of alternative fuels and power solutions and assist in the development of a hydrogen infrastructure."

The Ecostar(TM) hydrogen genset is capable of producing 114 kVA of power at several voltage levels and phase options and is based upon a standard 6.8-liter Ford production engine that has been modified and warranted by Ford Power Products for hydrogen use. Commercial production of the hydrogen genset will begin in the fourth quarter of 2002.

"The adaptation from a research and development proof-of-concept engine to a production ready design was a short 12 months, a tribute to our team, development partner Ballard and suppliers,"
said Paul Moore, Director of Operations and Sales for Ford Power Products.

The Ecostar(TM) hydrogen genset joins the natural gas fueled genset introduced by Ballard three weeks ago, as the second product in the family of gensets introduced by Ballard using Ford Power Products engines. Additional Ecostar(TM) gensets, providing cost effective solutions to customers, enhanced performance and a superior environmental profile, are expected to be introduced over the next few years.

Ford Power Products supplies and markets Ford powertrains for use in non-automotive applications. Since 1947, it has been a global leader in providing superior value in power systems and service for industrial, marine and off-highway Original Equipment Manufacturers (OEMs). Ford Power Products' strategy includes a strong position in emerging fuels and emissions
technology. A photograph of the Ecostar(TM) hydrogen genset is available on Ballard Power Systems' website at www.ballard.com or on Ford Power Products' website at www.fordpowerproducts.com.

Ballard Power Systems is recognized as the world leader in developing, manufacturing and marketing zero-emission proton exchange membrane fuel cells. Ballard is commercializing fuel
cell engines for transportation applications and fuel cell systems for portable and stationary products ranging from 1 kilowatt to 250 kilowatts. Ballard is also commercializing electric drives for fuel cell and battery-powered electric vehicles, power conversion products for fuel cells, natural gas and hydrogen generator sets and other distributed generation products, and is a Tier 1 automotive supplier of friction materials for powertrain components. Ballard's proprietary
technology is enabling automobile, bus, electrical equipment, portable power and stationary product manufacturers to develop environmentally clean products for sale. Ballard is partnering
with strong, world-leading companies, including DaimlerChrysler, Ford, EBARA, ALSTOM and FirstEnergy, to commercialize BALLARD® fuel cells. Ballard has supplied fuel cells to Honda, Nissan, Volkswagen, Yamaha, Cinergy, Coleman Powermate and Matsushita Electric Works, among others.

For sales information, please contact:
Tom Daly
Ballard Power Systems Inc.
15001 Commerce Drive North
Dearborn, MI 14120
Tel: 800.536.1126, or 313.583.5980
Fax: 313.583.5990
E-mail: [email protected]