Hydrocarbon System provides individual parts cleaning.
Press Release Summary: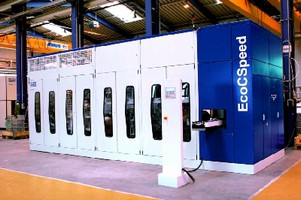 Utilizing several process modules, EcoCSpeed can clean complex geometrical workpieces during manufacturing cycle using non-halogenated hydrocarbon. Cleaning process may include injection flood washing, steam scouring, and vacuum drying. Offering throughput of 2.7 tons/hr, basic version features 5 process modules designed for part/batch dimensions up to 370 x 220 x 200 mm. Inline system can be equipped with additional process modules to ensure 40-sec cycle time.
---
Original Press Release:

Dürr Ecoclean Presents The First Hydrocarbon System For Inline, Individual Part Cleaning In Manufacturing Cycles



Filderstadt, November 2007 - Dürr Ecoclean GmbH's EcoCSpeed offers new advantages for inline cleaning of individual parts. This innovative system makes it possible for the first time to clean complex geometrical workpieces during the manufacturing cycle using non-halogenated hydrocarbon. The EcoCSpeed has several process modules which can be loaded in delayed phases via a specially designed handling system. The cleaning process may include injection flood washing, steam scouring, and vacuum dry-ing, and the cycle time can be adjusted to suit the manufacturing cycle. Cleanliness is achieved even for stringent specifications. Process quality and efficiency is ensured by cleaning complex parts individually rather than in batches.

In the past, short cycle times and strict cleanliness requirements pre-sented problems for inline cleaning processes, especially when clean-ing complex, mass-produced workpieces. Very complex, continuous systems were required, and the spraying methods used in these sys-tems were only partially able to clean the parts. With the innovative EcoCSpeed, Dürr Ecoclean GmbH offers a solution that makes it possi-ble to use non-halogenated hydrocarbons to clean workpieces with a complex geometry within the manufacturing cycle. Complex shapes include pumps, cases, ABS and common rail parts, as well as gears, crank shafts and camshafts. The system, which is equipped with sev-eral process modules, was designed to be integrated in production lines, or directly connected to production systems and machining cen-ters. The workpieces can be cleaned individually or as a batch from pro-duction in a product carrier.

2.7 tons per hour with the basic version
The basic version of the EcoCSpeed is equipped with five process modules, which are designed for part/batch dimensions of up to 370 x 220 x 200 mm (L x W x H). The maximum weight of parts or batches is 30 kilograms. This allows the new inline cleaning system to reach through-put of 2.7 tons per hour. With dimensions of 7500 x 3500 x 3100 mm it more than meets the demand for space-saving cleaning technology.

Individually adjustable cleaning process in a 40-second cycle
The EcoCSpeed's flexible design makes it possible to equip the system with additional process modules to ensure that the overall 40-second cycle time is maintained. The cleaning process can therefore easily be adjusted to meet individual throughput demands and to suit individual production cycles. The work chambers are loaded in a delayed process by a handling system which is tailored to the workpiece or the batch. In the work chambers, the parts are treated by injection flood washing (IFW), steam scouring and vacuum drying. For the IFW, jet systems are arranged in the modules through which the cleaning agent is pumped at high pressure into a flooded work chamber. This produces a whirlpool effect which ensures very effective cleaning, even in areas such as boreholes and undercuts which are difficult to reach. Thanks to the vac-uum drying process, workpieces leave the system completely dry and ready for immediate downstream processing. Because the entire clean-ing process takes place in a vacuum, no special explosion protection measures are necessary to operate the machine. Additional steps re-quired in immersion cleaning are dispensed with, such as the grouping of workpieces into product carrier systems and later separating them. This is not only more efficient, but also increases process quality be-cause damage caused to parts through unnecessary handling is elimi-nated.

Integrated processing technology and ease of serviceability
As with all Dürr Ecoclean cleaning systems, the new EcoCSpeed series also has stainless steel piping and an efficient processing technology. The development engineers paid particular attention to ensure that the EcoCSpeed is easy to maintain and service. All components that re-quire servicing are easily accessible. A further advantage of the design of the system is the continuous operation of units such as pumps and distillation. This reduces the workload on the units compared to sequen-tial usage, which is usually found in traditional cleaning systems. This extends the overall service life of the machine.

Thank you in advance for sending a specimen copy.

The Dürr Ecoclean Group is one of the leading providers of solutions for industrial parts cleaning, automation and filtration. With offices in Ger-many, France, the Czech Republic, the USA, China and India, the com-pany supplies the automotive industry, its suppliers and the general market around the world with innovative standard systems, customized system solutions and services. Dürr Ecoclean is a member of the Dürr Group, one of the world's leading providers of products, systems and services for automobile production.

More from Software