Hydraulically Driven Lubricator works with construction/off-highway equipment.
Press Release Summary: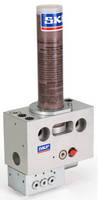 Reducing need for manual maintenance, SKF Hydraulic Driven Lubricator automatically lubricates construction and off-highway equipment attachments using integrated pump driven by hydraulic oil itself. Integral pump feeds proper lubricant in appropriate amount at right time, and delivery rates can be adjusted or reset to meet operating requirements. Installed directly on attachment, unit performs ideally with chisel paste and helps increase machine availability as well as worker safety.
---
Original Press Release:

SKF Hydraulic Driven Lubricator Eliminates Need for Manual Lubrication of Construction and Off-Highway Equipment Attachments



The SKF Hydraulic Driven Lubricator offers an innovative solution for lubricating construction and off-highway equipment attachments (including hammers, breakers, pulverizers, shears, and grapples, among others). This robust lubrication unit automatically lubricates attachments using an integrated pump driven by the hydraulic oil itself. The technology has been optimized to perform in the toughest operating environments and reduces the need for time-consuming and often dangerous manual relubrication.

Operating benefits include increased machine availability, reduced maintenance costs, improved worker safety, and reduced risk of wear and breakdowns.

The hydraulically driven lubricator uniquely incorporates a patented pump design. The pump's drive is provided by its drive piston, which is pressurized on an alternating basis by the machine's hydraulic circuit via a hydraulic changeover valve. The piston performs either in a suction or delivery phase as long as the machine and/or attachment is in operation. The result is that the pump feeds the right lubricant in the right amount at the right time. Delivery rates can be adjusted or reset to meet operating requirements.

The SKF Hydraulic Driven Lubricator is easy to install by fitting the unit directly on the attachment. The unit has been engineered to perform ideally with chisel paste, which is typically recommended for rugged equipment exposed to harsh environments. Users can quickly and easily fast-change the lubricant cartridge when necessary.

Contact SKF USA Inc., 890 Forty Foot Road, P.O. Box 352, Lansdale, PA 19446. Phone: 800-440-4SKF (toll free). Email: skfusainfo@skf.com Web site: www.skfusa.com

SKF is a leading global supplier of bearings, seals, mechatronics, lubrication systems and services, which include technical support, maintenance and reliability services, engineering consulting and training. SKF is represented in more than 130 countries and has 15,000 distributor locations worldwide. Annual sales in 2010 were SEK 61,024 million (USD 9.1 billion) and the number of employees was 44,742.

More from Packaging Products & Equipment