Hydraulic Valve Bodies accept two 2-way cartridges.
Press Release Summary: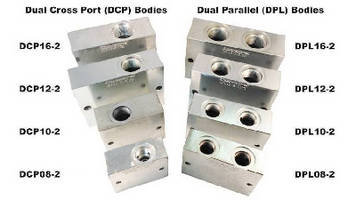 Available in aluminum and stainless steel versions with SAE or BSP ports, Mix-N-Match Series includes Dual Parallel and Dual Cross-Port circuits that house two, 2-way valves each, in 4 different cavity sizes of -8, -10, -12, and -16. Users can install variety of valves into bodies to create numerous hydraulic circuits, such as proportional, solenoid, check, flow control, manual, and relief valves. Threaded plug options allow for design flexibility in parallel bodies.
---
Original Press Release:
New Mix-N-Match Dual Bodies
Designed with our partner distributors in mind - allowing them to be responsive to customer's simple circuit needs

Easley, SC – Comatrol, a global leader in the design, manufacture and sale of engineered hydraulic cartridge valves and hydraulic integrated circuits (HICs), today introduces a new family of aluminum and ductile bodies called Mix-N-Match. The family includes Dual Parallel (DPL) and Dual Cross-Port (DCP) circuits that house two, 2-way valves each - in four different cavity sizes (-8, -10, -12 and -16).

The term Mix-N-Match is derived from the ability to install a large variety of valves into the bodies to create numerous hydraulic circuits. These bodies provide distributors with the flexibility to be creative and solve customer needs without needing to create a special manifold. Countless solutions can be created with two, 2-way cartridge valves - limited only by imagination. Common 2-way valves include Proportional (Flow Control, Pressure Relieving, Pressure Reducing), Solenoid (Poppet & Spool Types), Check, Flow Control, Manual and Relief Valves.

Distributors can choose from two standard dual body designs for multifunction circuits. These dual bodies are available in both cross port and parallel circuit types. Threaded plug options are included to allow for design flexibility in the parallel bodies. Four sizes are available to house -8, -10, -12, and -16 size, two-way cartridges. Aluminum and steel versions with SAE or BSP ports can be selected.

OVERVIEW
• Bodies designed for Two, 2-way Cartridges
• Cross-Port and Parallel Designs
• -8, -10, -12, -16 Body Sizes
• Aluminum and Steel
• SAE and BSP Porting
• Threaded Plug Options Available for Additional Flexibility (Parallel Bodies)

About Comatrol
Comatrol, a member of the Danfoss Group, is the most responsive source for Cartridge Valves and Hydraulic Integrated Circuit (HIC) solution needs. Comatrol works with customers and suppliers around the world to manufacture high performance machine control solutions for mobile, on-highway, energy, and industrial equipment markets. Additional information is available at www.comatrol.com, or follow us on Facebook™ at www.facebook.com/comatrol