Hydraulic Universal Testers use energy efficient pumps.
Press Release Summary: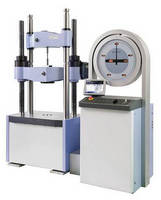 Operated via 10.4 in. color touchscreen and designed for high-precision stress and strain control, UH-X/FX Series automatically tune control parameters in real-time based on values during testing. Users can measure test force and strain without specifying amplifier range as well as perform tests without computer via USB memory stick with test parameters. Hybrid hydraulic unit powering both series combines AC servo motor with hydraulic pump, which only operates when necessary.
---
Original Press Release:

Shimadzu's New High-Precision Hydraulic Universal Testers Offer Ease-of-Use with an Environmentally Friendly Design



COLUMBIA, Md. - The new, user-friendly UH-X/FX Series from Shimadzu Scientific Instruments are hydraulic universal testing machines designed for high-precision testing control. With their environmentally friendly design, the UH-X and UH-FX testers can significantly reduce energy expenditures in testing laboratories.

The UH-X/FX Series improves upon the control performance and ease of operation of universal testers. The semi-auto-tuning function allows high-precision stress control and strain control, and it complies with ISO 6892-2009 and JIS Z2241 metallic tensile testing standards. Control parameters are auto-tuned in real time, based on test force and strain values during testing. This eliminates the need for preliminary testing, making it easy for users to perform precise stress-controlled or strain-controlled testing

Users can measure test force and strain without specifying an amplifier range. This means data can be acquired using optimal measurement parameters even for specimens with unknown strength. Operators can perform tests without a computer by inserting a USB memory stick into the measurement controller with test parameters stored in the USB memory. Measurement data is automatically saved in the USB memory after tests, which enables data analysis with Shimadzu's TRAPEZIUMX software

The UH-X/FX Series feature extra-large 10.4-inch color touch screens that improve visibility and ease of operation. The graphical user interface allows even first-time operators to easily perform a wide variety of functions with a touch of the screen. It also displays S-S curves in real time during testing.

The hybrid hydraulic unit powering the UH-X/FX Series combines an AC servo motor with a hydraulic pump. The environmentally friendly pump only operates when necessary, reducing power consumption by up to 82 percent. The testers require up to 50 percent less hydraulic oil to run, significantly lowering fuel costs for laboratories. Additionally, the sound level of the UH-FX has been reduced by more than 10 dB to 65 dB for a more comfortable laboratory working environment.

Other features of the UH-X/FX Series include:
· Key switch included standard
· Crosshead elevating switch box provides fingertip control (optional)
· Front-opening hydraulic grips allow efficient specimen recovery and scale removal for superior safety (UH-FX)
· Easy-to-read specimen grip positioning indicator (UH-FX)
· Safety cover for protection against debris (optional)

For more information about the UH-X/FX series, visit www.ssi.shimadzu.com/products/product.cfm?product=uh-x_fx.

About Shimadzu Scientific Instruments, Inc.
Shimadzu Scientific Instruments (SSI) is the American subsidiary of Shimadzu Corp., headquartered in Kyoto, Japan. Founded in 1875, Shimadzu is a $3 billion multinational corporation with three major divisions: Medical Diagnostics, Aerospace/Industrial and Analytical Instruments. In the United States, SSI has a network of more than 50 locations providing local and regional sales, service and technical support. Visit www.ssi.shimadzu.com for more information.

Media Contact:
Debra Yemenijian
Sr. Public Relations Executive
Schubert Communications Inc.
610-269-2100, ext. 224
debray@schubert.com