Hydraulic Tube Puller removes old tubing.
Press Release Summary: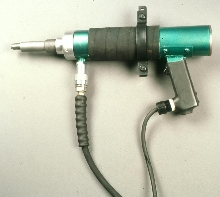 Using 1 1/8 hp electric motor that delivers 55 cfm of oil at 10,000 psi, Hydraulic Tube Extractor pulls tubes from 5/8 to 1 1/4 in. OD. Extractor is also available in kit with 110 V, 60Hz or 220 V, 50-60 Hz electric motor. Kit includes extractor gun, power hose with on/off assembly, hydraulic power unit, and collet gripper set. Each collet gripper set includes mandrel and depth stop. Gripper sets are available for 5/8, 3/4, 7/8, 1, and 1¼ in. OD tubes, 16 to 22 ga.
---
Original Press Release:

Removing Old Tubes from Pressure Vessels Does Not Have to Be Time and Labor Intensive


Hydraulic Tube Puller Efficiently Removes Old Tube from Heat Exchangers, Condensers and Other Small Pressure Vessels

Long Island City, New York USA - One of the most difficult tasks in the process of re-tubing a pressure vessel is removing the old tubes. Using a 1 1/8 HP electric motor that delivers 55 CFM of oil at 10,000 PSI, the Wilson Hydraulic Tube Extractor quickly and efficiently pulls tubes from 5/8 (15.9mm) to 1 1/4 (31.8mm) OD in half the time it would take to pull them manually.

The Wilson Hydraulic Tube Extractor users a unique "collet" to securely grab the inside of the tube. As a mandrel expands the collect, grooves dig into the inside surface of the tube, holding it securely so the powerful hydraulic power unit can break the expanded area of the tube free from the pressure vessel's tube sheet. Once the expanded area of the tube has been pulled out of the tube sheet, the rest of the tube easily slides out of the heat exchanger, condenser or other small diameter pressure vessel.

In some applications, the tube has to be cut behind the tube sheet before it can be removed, and it is then pulled from both ends of the pressure vessel. The Wilson Hydraulic Tube Extractor is so powerful, however, that it can often break both ends of
the tube free from its grip on both tube sheets in a single action. This unique capability produces substantial savings in time, material and labor:

- It eliminates the need for a tube cutter

- The labor required to cut each tube is also eliminated

- The labor needed for tube pulling in cut in half since each tube is only being pulled once from one end of the vessel!

If the tube needs to be cut before it can be pulled, Thomas C. Wilson, Inc. offers a complete line of tube cutters.

The Wilson Hydraulic Tube Extractor comes in an easy-to-order kit:

- Just specify the tube OD to order the right Wilson Hydraulic Tube Extractor Kit

- The kit is available with either a 110-Volt/60Hz or 220-Volt/50-60Hz electric motor

- Each kit includes an Extractor Gun, a Power Hose with an On/Off Assembly, a Hydraulic Power Unit and a Collet Gripper Set

- Collet Gripper Sets are available for 5/8 (15.9mm), 3/4 (19.1mm), 7/8 (22.2mm) 1 (25.4mm) and 1¼ (31.8mm) OD tubes, 16 to 22 Gage

- Each Collet Gripper Set includes a Mandrel and Depth Stop

- Extended Mandrels, Long Reach Extensions and Extended Depth Stops are available for deep-tube pulling

- The Wilson Hydraulic Tube Extractor is available for both sale and rental

Thomas C. Wilson, Inc. has manufactured tools for the fabrication, repair, cleaning and maintenance of pressure vessels for 70 years. Headquartered in Long Island City, New York, Wilson distributes, services and supports its products through a global network of Authorized Distributors.

For information about the Wilson Hydraulic Tube Extractor, tube plugs, tube expanders, tube cutters, tube facing tools and pneumatic tools, as well as tube cleaning systems and accessories, or the name and telephone number of a local Authorized Wilson Distributor, contact Thomas C. Wilson, Inc. at:

Toll Free: 1-800-230-2636; Telephone: (718) 729-3360; Fax: (718) 361-2872
Internet: tcwilson.com; E-mail: smarttools@tcwilson.com

The Wilson Hydraulic Tube Extractor features a lightweight and maneuverable trigger-operated Extractor Gun

More from Electrical Equipment & Systems