Hydraulic Steering Unit eliminates rebound.
Press Release Summary: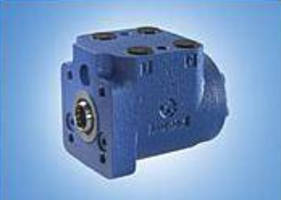 With up to 800 cm³ per steering revolution and nominal pressure of 175 bar, LAGS Steering Unit optimizes directional stability and prevents unwanted rebounding of steering wheels on tractors, combine harvesters, chaff cutters, and diggers. Hydraulic, open-center-based unit features reduced internal static friction, minimizing force required to start steering process.
---
Original Press Release:

Rebound-Free Steering for Agricultural Mobile Machines - Rexroth Is Now Also Applying a Patented Solution to LAGS Series Steering Units for Larger Machine Classes



With the redesigned LAGS steering unit, Rexroth is now able to offer hydraulic steering without the steering wheels rebounding after the steering process also for large tractors and agricultural machines.

The Rexroth LAGS steering unit and is now able to offer a hydraulic open-center-based steering system which prevents unwanted rebounding of the steered wheels also on tractors and agricultural machines. Smaller vehicles such as fork-lift trucks already benefit from this proven, Rexroth-patented solution.

Initially for smaller machines such as fork-lift trucks, Rexroth developed and patented a new system of fluid routing for the LAGC steering series, which prevents the rebound-effect of the steered wheels. The manufacturer has now applied this patent to the LAGS steering series for large mobile machines. The elimination of unintentional steering movements means a significant plus factor in terms of comfort and safety, especially with agricultural mobile machines: The higher the steering-axle load - particularly in combination with high adhesion and soft tires - the greater the energy in the steering system and a correspondig rebounding. The LAGS steering unit relieves the drivers of tractors, combine harvesters, chaffcutters or diggers of this phenomenon. This solution also optimizes directional stability.

In previous open-center-based steering systems, mechanical and hydraulic energy initiates the rebounding of steered wheels. This energy acts against the desired steering direction during the steering process. Depending on the function, this stored energy is released at the end of one steering process and at the start of the following steering process. In this process a volume of pressurized fluid flows from a steering-cylinder line via the steering unit to the tank. Without the driver intending this to happen, the steered wheels move of their own accord, sometimes in jerks and jolts, against the previous steering direction.

A further improvement in ergonomics is based on the revised actuating-force characteristic of the LAGS steering system. Rexroth has reduced the internal static friction in the unit so that less force is required to start the steering process.

With up to 800 cm3 per steering revolution and a nominal pressure of 175 bar, LAGS can be regarded as the "big brother" of the LAGC Series.

Bosch Rexroth AG will present its products at the AGRITECHNICA 2007 in Hall 9, Stand 09F05.

Bosch Rexroth AG is one of the worldwide leading specialists in the field of drive and control technologies. Under the brand name of Rexroth the company supplies over 500,000 customers with tailored solutions for driving, controlling and moving plant and machinery, which are used in industrial and factory automation as well as in mobile applications. Being The Drive & Control Company, Bosch Rexroth develops, produces and sells components and systems in more than 80 countries. In 2006 the company of the Bosch Group achieved sales of approximately 4.9 billion Euro with over 29,800 employees.

For more information please click: www.boschrexroth.com

More from Thermal & Heating Equipment