Hydraulic Stackers allow safe lifting of heavy loads.
Press Release Summary: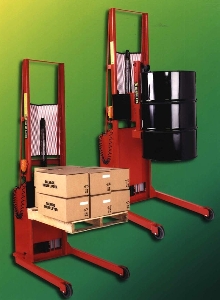 Battery-powered hydraulic stacker/lifters feature load capacity up to 2,000 lbs in both fork (25 in. forks) and platform (24 x 24 or 30 x 32 in. platform) models. Remote control, floor lock, safety screen, LED status indicators, illuminated voltmeter, and computer-controlled charger are standard. Straddle models have 40 in. straddle legs and forks, with inside span of 25 in. (fixed) or 34 to 50 in. (adjustable). Counter Balance model offers 2,000 lb. capacity at 13 in. load center.
---
Original Press Release:
Wesco's Powered Hydraulic Stackers Allow for Safe, Easy Lifting of Heavy Loads

Lansdale; PA, April 2002 - New battery-powered hydraulic stackers/lifters from Wesco Industrial Products feature a load capacity of up to 2,000 lbs. and a full complement of standard
features in both fork (25-inch forks) and platform (24" x 24" or 30" x 32" platform) models.

Standard on all powered stackers are a remote control, floor lock and safety screen. Easy mobility is ensured with 5-inch phenolic wheels in the front and 4-inch phenolic swivel casters in the rear. Also standard on all models are LED battery charging status indicators, an illuminated voltmeter to indicate battery charge state, and a computer-controlled charger that allows the stacker to run off of A/C while recharging. A special circuit permits the battery to remain connected to charger without danger of over-charging.

Wesco's powered stackers are also available in straddle and counter-balance models, as well as with the Gator Grip drum lifter option. Straddle models feature extra deep (40") straddle legs and forks, and the inside span measures 25" (fixed) or 34" to 50" (adjustable model) to handle most pallets. The Counter Balance model offers up to 2,000-lb. capacity at a 13-inch load center.

The new Gator Grip model features a carriage mounted drum grab with Wesco's Auto Grip Lock. The Auto Grip Lock, exclusively from Wesco Industrial Products, features a revolutionary design (patent pending) that automatically locks the grip jaws closed and maintains a positive lock throughout drum transport - unlike competitor drum grabs which may open and drop the drum when moving over bumps or rough surfaces. The Auto Grip Lock (up to 1,600-lb. capacity when used on a 2,000-lb. capacity powered stacker, or 1,000 lbs. on a 1,000-lb. stacker) remains locked until the drum is placed on the ground.

Wesco Industrial Products, Inc. has been a premier manufacturer of material handling equipment since 1948. Along with a full line of lift equipment, Wesco offers a wide range of hand trucks, drum handling equipment, plafform trucks & carts, and related accessories at competitive prices.

For more information on Powered Hydraulic Stackers and Lifters, or for a copy of Wesco's new Condensed Catalog or their Master Catalog, please contact Wesco Industrial Products, Inc., P.O. Box 47, Lansdale, PA 19446; Tel: 215-699-7031; Fax: 800-346-5511;
E-mail: wesconsm@wescomfq.com; Web: www.wescomfg.com.


More from Agricultural & Farming Products