Hydraulic Rotary Actuators operate from 145-1,000 psi.
Press Release Summary: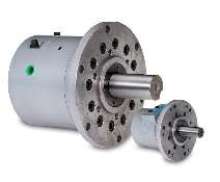 Series HRN/HRN-C provide up to 17,346 lb-in. output torque at 1,000 psi, depending upon model. Units incorporate round vane design with vane seal molded in pre-machined groove, providing one-piece shaft, vane, and seal assembly. Actuators offer rotations of 90° and 270°, with 180° available on Series HRN-C. Zero backlash allows for exact positioning anywhere in rotation. Series HRN-C also incorporates field-adjustable load deceleration cushions.
---
Original Press Release:
New HRN Series from Parker Hannifin Delivers Additional Vane Actuator Technology and Options
Wadsworth, Ohio, November 16, 2004 - The Actuator Division of Parker Hannifin Corporation (NYSE:PH) introduces the new HRN Series and HRN-C Series of hydraulic rotary actuators. Designed to provide an additional range of vane actuator technology as well as more options in optimum torque and pressure, HRN actuators complement Parker's Tork-Mor Series. These vane type actuator product lines supplement the rack and pinion type actuator product lines - the LTR Series, the HTR Series, and the Mill Series - to give Parker Hannifin's Actuator Division the broadest range of product of any actuator manufacturer. Both HRN and HRN-C have a rated operating pressure of 145 psi to 1000 psi (7 MPa) for the low to medium operating pressure range. Output torque at 1000 psi, depending upon model selection, ranges from 10 to 1960 Newton Meter (17346 in-lb). The HRN Series and HRN-C Series incorporate a round vane design that provides lower vane seal bypass. Rugged construction - combined with molding the vane seal in a pre-machined groove that provides a one-piece shaft, vane, and seal assembly - ensures long life and reliability of the actuator. The shaft and vane are precision machined from high-strength alloy steel. Available options include rotations of 90 degrees and 270 degrees (180 degrees when using the HRN-C Series), depending on whether the unit is arranged as a double vane or single vane configuration. Zero backlash allows for exact positioning anywhere in the rotation. Reference points (or keyway timing) are provided relative to the port positioning. The HRN-C Series provides unique cushion options for applications in which control of high inertial loads is critical. The actuator incorporates load deceleration cushions, which are field adjustable to meet varying rotational speeds and loading, that act over the last 20 to 25 degrees of rotation. Additional features provided by the HRN Series and HRN-C Series include: Two rolling element bearings to support the shaft and vane assembly; Single or double vain options; A standard, double ended shaft that allows for manual override (the rear shaft is square cut); A compact (especially the cross section), cylindrically shaped housing that can be easily integrated The Actuator Division combines pneumatic, electromechanical, hydraulic and structural aluminum technologies to provide world-class automation system solutions across all industries. Parker Hannifin with annual sales exceeding $7 billion, is the world's leading diversified manufacturer of motion and control technologies and systems, providing precision engineered solutions for a wide variety of commercial, mobile, industrial and aerospace markets. The company employs more than 46,000 people in 44 countries around the world. For more information regarding the HRN Series and HRN-C Series of hydraulic rotary actuators, contact Parker Hannifin Corporation, Actuator Division. Phone 330-336-3511 or visit us online at www.parker.com/actuator. Woodie Francis
Product Marketing Manager
Parker Hannifin Corp.
Actuator Division
Wadsworth, Ohio
Phone: 330-335-2144
wfrancis@parker.com
More from Printing & Duplicating Equipment