Hydraulic Ring Expanders target aerospace industry.
Press Release Summary: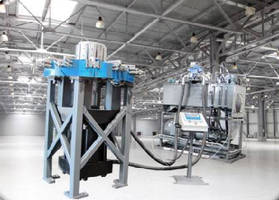 Capable of forming strong, symmetrical, ring-shaped parts, Hydraulic Ring Expanders are typically used in aerospace industry for turbine engine manufacture. Ring expansion process helps minimize material thinning, and virtually eliminates stress point issues associated with traditional rolling and machining of rings made from high-strength materials including Inconel, Hastelloy, and Titanium. Jaw diameter, jaw height, jaw travel, and tonnage capacity are customizable.
---
Original Press Release:

Beckwood Expands Product Family with Line of Hydraulic Ring Expanders



St. Louis, MO – Beckwood Press Company, manufacturer of advanced hydraulic press manufacturing solutions, has expanded its product offering with the addition of a hydraulic ring expander line. The systems, which are used to form strong, symmetrical, ring-shaped parts, are commonly used in the aerospace industry for turbine engine manufacture. The ring expansion process helps minimize material thinning, and virtually eliminates the stress point issues associated with traditional rolling and machining of rings made from a variety of high-strength materials including Inconel, Hastelloy and Titanium, among others.



Beckwood's ring expander solutions can be customized to the individual user's needs. This available customization includes jaw diameter, jaw height, jaw travel, tonnage capacity and other expander specifications. Leveraging a deep reservoir of experience with industrial machine control, Beckwood's ring expanders are provided with precision programmability and recipe functionality via an Allen Bradley control platform.



"Throughout the past decade, Beckwood has developed into a total solutions provider," said Beckwood President, Jeffrey Debus. "Companies across the globe are benefiting from our 360-degree manufacturing capabilities, with the ability to single source a variety of quality manufacturing equipment including hydraulic presses, hot forming presses, stretch forming machines, sheet hydroforming presses and, now, ring expanders," concluded Debus.



Each Beckwood ring expander structure is engineered for Infinite Life using the finite element design analysis software. The designs are built to withstand the high forming and surface forces generated during the ring expansion process. Systems are provided with replaceable wear pads between the jaw segments and the jaw cone.



As is standard with every Beckwood-manufactured system, Beckwood's ring expanders come equipped with Beckwood's PressLink system for remote connectivity, for fast and efficient support from the factory via a standard Ethernet connection. Built-in redundancies, such as dual pressure transducers also minimize unexpected downtime.



About Beckwood Press Company

The Beckwood Press Company is a leading hydraulic press supplier, located in St. Louis, MO USA. They offer quality, custom hydraulic presses for virtually every industry & application, including a line of high-temperature hot forming presses for forming structural aerospace components. Beckwood also manufactures the Triform line of Sheet Hydroforming Presses, which use hydraulic fluid in a flexible bladder, or diaphragm, to shape sheet metal and composite material against a single tool, as well as a line of stretch forming machines for both extrusion and sheet applications. Get the latest news from Beckwood at http://www.beckwoodpress.com/news.



Contact: Rebecca Fields

800-737-0111 (ext. 120)

info@beckwoodpress.com