Hydraulic Power Test System Development for the United States Navy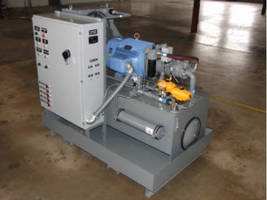 Ken DeGraw, Sigma Design Company's northern NJ rep recently brought in a very interesting project. We are working on a NAVSEA research program to design and build a large Hydraulic Power supply for the US Navy's weapon testing system.



Sigma is very excited to work on a project with the US Navy. Talk about a project in 'our wheelhouse' as they say. Jerry Lynch, a 'tin can sailor' who served as a destroyer GMG2 gunner was thrilled to have the opportunity to work on this special project supporting shipboard defense systems for Navy operations.



Michael Collins, the lead engineer on the NAVSEA project worked for the US Navy in Philadelphia before coming to Sigma. This project requires the creative design of safety features while providing 50% more power through their Hydraulic Power Supply system. With operating pressures in excess of 3000psi the pressure compensation and hydraulic shock suppression systems were key features in the new design. This system joins the growing roster of Sigma's manufactured in NJ products - designed and built in NJ. Sigma is proud to have the opportunity to work with the Navy to improve operational shipboard defense systems used around the globe but made in NJ.





More from Electrical Equipment & Systems