Hydraulic Piston Pump works quietly at high pressures.
Press Release Summary: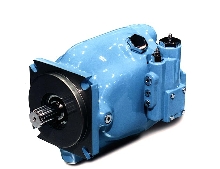 Compact XL75 open circuit 75 cc/rev displacement pump operates at 4,060 psi. It has smooth, rounded construction, with no drum-type surfaces to amplify noise. Pump has hydrostatic bearings and O-ring seals rather than gaskets. Applications include plastics machines, die casters, presses, power units, aerospace test stands, tractors, front end loaders, scrapers, dozers, heavy duty fork lifts, haul trucks, and road graders.
---
Original Press Release:

Denison XL Series


Result of intuitive engineering, CAD tools, competitive studies, market research, modern manufacturing machines; see it in Booth S-13251 CONEXPO/IFPE

Marysville, Ohio, March 1 9 -- Keeping with its tradition of excellence in new product development, Denison Hydraulics has launched a brand new family of XL Series open circuit hydraulic piston pumps for both the off-highway equipment and in-plant machinery markets.

Launch time. The XL Series' first exposure to the market takes place at the joint International Fluid Power Exposition and Conexpo exhibition in Las Vegas starting on March 1 9, 2002. Denison is displaying XL and other products, including a new digital fan drive, in Booth S-1 3251.

The first available model - from an eventual range of 10 units - is the XL75, a 75 cc/rev displacement pump with standard hydro-mechanical controls. It will be available in an electronic controlled version later in 2002.

A total of 10 models, ranging from 10 cc/rev all the way to 260 cc/rev, will be made available over the next couple of years.

The product line is aimed at a very specific, growing niche in the fluid power marketplace:
- high volume,
- medium-duty,
- high pressures (280 bar; 4060 psi),
- open circuit piston pumps,
- for both mobile and industrial applications, and
- targeted at global customers.

What follows are highlights of a conversation with members of the design and manufacturing team involved with XL's development. Participants include director of engineering Dick Klimaszewski, senior designer Tony Reilly, senior project engineer Bob Stakely, manufacturing engineer Mark Hayes, and two consulting engineers, piston pump specialist Bob Hodges, and controls and analytical programming engineer Dr. Raj Gunda.

If you're not the first, be the best. The XL Series has been developed to go head-to-head with several existing brands of pumps. Because it isn't first in the market, the company's strategy has been to ensure it's the most advanced, Klimaszewski says. "It's more compact, quieter - even more streamlined - than competitive units."

Since when does a hydraulic pump need to be streamlined? "What we've done," Reilly laughs, "is design a product that doesn't have controls and wires hanging all over it. Everything is integral with the pump. Compact. Competitive pumps look like they're loaded with afterthoughts."

Who's the competition? "No sense naming names," Hodges says. "Suffice it to say that we've identified and studied them."

Studied them? "We bought 18 competitive pumps for analysis and benchmarking," Hodges says. "We were very thorough. We know their weaknesses and have built on that knowledge with our pump."

For example? "It begins with something as basic as the housing of the XL Series," Stakely says. "Our pump has a smooth, rounded construction; it's quieter as a result. There are no drum-type surfaces to amplify noise. Our pump has hydrostatic bearings for faster response and longer life. And our pump uses static 0-ring seals rather than gaskets."

Markets served. On the in-plant machinery side of the coin, the XL Series will find application on plastics machines, die casters, presses, power units, aerospace test stands, steel mills, etc. In the off-highway' market, ag tractors, front end loaders, scrapers, dozers, heavy duty fork lifts, haul trucks and road graders are all likely candidates.

Design for manufacturing. Denison design and manufacturing engineers worked together to ensure that the XL Series is not overly complex to manufacture. "And we invested heavily in new manufacturing equipment," Hayes says. "We have flexible, two-story machining centers that hold 330 tools. And a manufacturing flow system that moves parts from machining cells to the assembly area quickly and efficiently."

Design tools. Prototype plastic parts and failure modes and effects analysis (FMEA) were also vital to the design-development activity, Stakely says. A 3D Systems printer was used to make prototype plastic solid parts. The plastic parts were particularly useful when team members communicated with vendors. "The 3D printer helped us avoid a lot of casting problems," he says. "And FMEA - a design tool that was first used in the aerospace industry - gave us a systemized way of looking at how a product might fail. We used FMEA throughout the process."

Long term commitment. With the introduction of a total of 10 pumps in the XL family and with the potential for higher pressure units and even over-center transmission versions, the team expects to be busy with new product launches for several years. "This is a major commitment for Denison," Klimaszewski says. "We're in it for the long haul."

The name. What were the factors that caused Denison to name the new family the XL Series? The group's consensus: as a Denison brand, it stands for excellence. Reilly offers an alternative suggestion: "It's easy to spell," he jokes.

Teamwork for a truly global product. Although it's a product designed and manufactured at the company's headquarters in Marysville, Ohio, the development of the XL Series is the result of a total-company effort - from market research all the way through to manufacture. Early in the program, meetings were held in Europe to brainstorm the product. Global customers were contacted and consulted.

Engineers at Denison's Hilden, Germany, valve plant have played a continuing role in integrating their valve products into and onto the XL Series. "They've offered great advice," Dr. Gunda says, "and we've listened."

March 19, 2002
Contact: Doug Drummond, NES
Bill Johanson, Denison Hydraulics

Denison Hydraulics
14249 Industrial Parkway
Marysville, OH 43040
(937) 644-3915

NATIONAL EDITORIAL SERVICES
Public relations and advertising
195 West Nine Mile Road. Suite 207 - Fermdale. MI 48220
248-548-7444- Fax: 248-548-4071
e-mail: nationaled@aol.com


More from Materials