Hydraulic Multimeters offer flow ranges of 100 or 200 gpm.
Press Release Summary: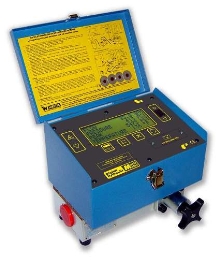 Series DHM provides digital readout of pressure, peak pressure, volumetric efficiency, and hydraulic horsepower in addition to flow rate and fluid temperature. Two models are offered with peak pressure to 9,000 psi and temperature to 250°F. Display retains pressure spike values lasting at least 1 ms. Volumetric efficiency is automatically calculated and displayed by setting baseline flow and pressure point and increasing system pressure with bi-directional loading valve.
---
Original Press Release:

New Digital Hydraulic Multimeter


Milwaukee, WI -- Webster Instruments has released the DHM series Digital Hydraulic Multimeter. The DHM builds on a proven design by providing digital readout of pressure, peak pressure, volumetric efficiency and hydraulic horsepower in addition to flow rate, and fluid temperature. Two models offer flow ranges of 100 gpm or 200 gpm, peak pressure to 9000 psi and temperature to 250 degree Fahrenheit. Three main display screens can be user selected with the 4-button keypad. Pump volumetric efficiency is automatically calculated & displayed by setting a baseline flow and pressure point and then increasing system pressure with the loading valve. The built-in bidirectional loading valve features safety discs which internally bypass overpressure oil through the valve. A shuttle valve is integral to the load valve design allowing high pressure sensing from one point regardless of flow direction. Peak pressure display retains pressure spike values lasting at least 1 millisecond and memory can be cleared via the keypad. Hydraulic horsepower can be selected and is also automatically calculated and displayed on the high contrast, sunlight readable, 2" x 4" LCD screen.

For further information please contact: Mike Thomas Email: mgt@webster-inst.com Phone: 800-932-8378 FAX: 414-769-6591 WEBSTER INSTRUMENTS 1290 E. Waterford Ave., Milwaukee, WI 52335

More from Mechanical Components and Assemblies