Hydraulic Lifter-Dumper can be used for hazardous operation.
Press Release Summary: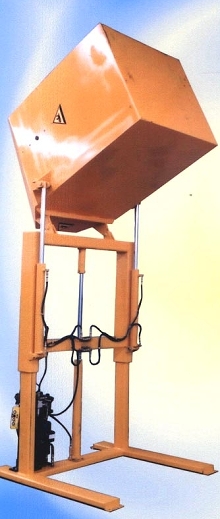 Telescopic container lifter-dumper incorporates tapered chute for dumping powder, liquid, or solid materials. Tilt capability is 135 deg or 45 deg below horizontal. Lift and dump height reaches up to 104 in. Unit is suitable for situations where loads need to be dumped at different heights such as 48, 60, 72, 84, or 96 in. It is available in capacities of 1000, 2000, 4000, and 6000 lb with container size up to 54 in. wide and 54 in. long.
---
Original Press Release:
New Telescopic Container Lifter-Dumper Can Be Used For Hazardous Operation

This new telescopic container lifter dumper is an exclusive design with unique telescopic lifting and tilting capability.

Its stream lined, simple design is also compact and incorporates a tapered chute for dumping powder, liquid or solid materials.

The tilt capability is 135 degrees or 45 degrees below the horizontal. The lift and dump height reaches up to 104". It is ideal for situations where loads need to be dumped at a variety of different heights such as 48" 60" 72" 84" or 96"; this unit will accommodate all of these applications.

The unit is available in capacities of 1000, 2000, 4000, and 6000lb with the container size up to 54" wide and up to 54" long. It will handle metal, plastic, fiberboard drums, cardboard boxes or any kind of container.

To dump, simply place the container onto the zero-low deck, then lift to the desired height and dump.

It is electrically operated 110 volts AC or 220/440 volts 3 phase. Optional air powered for hazardous duty operation.

The lifting and dumping action is hydraulically operated. The hydraulic system is protected for safety through use of a pressure relief valve. Cylinder shafts are chrome plated for smooth operation and to prevent corrosion.

The dumpers are built out of durable all carbon steel welded construction and optional stainless steel chutes are available.

The units are practical, convenient, compact, and will increase productivity and reduce worker injuries.

For more info:
Air Technical Industries,
7501 Clover Ave;
Mentor, OH 44060;
Phone: 800-321-9680;
Fax: 440-953-9237;
Email: www.airtechnical.com
More from Transportation Industry Products