Hydraulic Laundry Cart Dumper increases safety and efficiency.
Press Release Summary: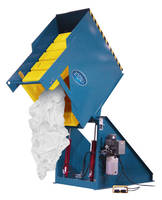 Hydraulic laundry cart dumper, by eliminating repetitive, heavy lifting, and time-intensive procedures associated with manual handling of bagged and loose laundry, increases worker productivity and safety in incoming soil-sort area. Upon pushbutton actuation, dumper automatically lifts loaded laundry cart (1,500 lb max) and turns it upside down for emptying onto sorting table or conveyor. Unit fits Poly-Trux® 72P style carts as well as other carts with heights to 67 in. and widths to 29 in.
---
Original Press Release:

Tingue Introduces Automated Laundry Cart Dumper



New Design Lifts, Dumps Loaded Laundry Carts Fast, Safely



Greensboro, NC, USA: Laundry product supplier Tingue (www.Tingue.com) has introduced a hydraulic laundry cart dumper to upgrade worker safety and speed productivity in the incoming soil-sort area. Operating at the push of a button, the new Tingue cart dumper automatically lifts loaded laundry carts and turns them upside down for emptying onto a sorting table or conveyor then gently returns the empty cart to floor level for removal. Manual handling of bagged and loose laundry with its repetitive, heavy lifting and time-intensive procedures is eliminated.



Featuring a sturdy structure of heavy-duty steel, the cart dumper is designed to safely lift and dump linen cart loads to 1,500 lbs., year after year, with minimal maintenance. The cart dumper fits the industry standard Poly-Trux(R)72P style bulk laundry carts and a variety of other carts with an overall height up to 67 inches and a width up to 29 inches, and is available in custom sizes. The automated cart dumper comes with a 2 HP motor as standard with a choice of left or right side controls and arrives fully assembled and ready to plug in and operate.



For more information, contact Jim Powell, Customer Service Manager, Tingue, 7009 Cessna Drive, Greensboro, NC 27409 USA; 800.222.9954; Fax 336.664.0036; jpowell@tingue.com; www.Tingue.com.



epr marketing

Paul Entin

908.479.4231 - Tel

908.246.8493 - Cell

www.eprmarketing.com