Hydraulic Hose does not need lubricated mandrel.
Press Release Summary: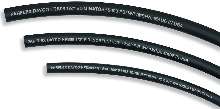 Parflex hybrid hydraulic hose features clean, chemically resistant, high-tensile elastomeric inner tube that provides chemical compatibility and resists permeation.
Inner tube is self-supporting, remains free from contamination, and forms secure mechanical bond with high-tensile wire braid reinforcement. Smooth rubber cover jacket provides adhesion to wire braid reinforcement and flexibility. Hose is alternative to thermoplastic and rubber hoses.
---
Original Press Release:

Parker Showcases Parflex Hybrid Hydraulic Hose at National Manufacturing Week


RAVENNA, OH -- December 12, 2002 -- Parflex hybrid hydraulic hose from Parker Hannifin incorporates the best features of thermoplastic and rubber hose into in a single product line. At NDES 2003, Parker introduces this newly acquired line, as well as other new products and services and alliances tailored for this market in Booth 1612 in Chicago's McCormick Place.

Developed as an alternative to traditional thermoplastic and rubber hoses, Parflex hybrid hoses features a clean, chemically resistant, high-tensile elastomeric inner tube that provides excellent chemical compatibility and resists permeation.

The inner tube is self-supporting during the manufacturing process, eliminating the need for a lubricated mandrel to support the hose carcass. As a result, the tube remains free from contamination, a necessity in hydrostatic drive applications. This eliminates the costly and time-consuming process of flushing hose assemblies. Hose cutting residue can be evacuated with air pressure because there is no mandrel lubricant residue to which debris may adhere. The inner tube also forms a secure mechanical bond --versus a less-secure chemical bond -- with a high-tensile wire braid reinforcement.

A specially compounded smooth rubber cover jacket provides excellent adhesion to the wire braid reinforcement, minimizing the chance for cover delamination. This cover material provides excellent flexibility. In fact, a number of the hybrid hoses in this Parflex line are rated at or below the applicable SAE minimum bend radius. Additionally, the cover's smooth texture diminishes routing and dragging problems found in hoses with a wrapped finishes.

Unlike rubber hoses, Parflex hybrid hoses come in long continuous lengths that are not limited by the use of a mandrel. Consequently, standard/stocked hybrid hoses are produced predominantly in one-piece reels, providing users with inventory flexibility and minimal scrap.

Parker acquired three hybrid hose brands from Dayco last year. These include the HFS Firescreen® Hose, the HFS2 Firescreen II® Hose and the HTB Eliminator Hose. HFS Firescreen, which exceeds SAE 100R1AT, is designed for use in high-temperature (to +250ºF), medium-pressure hydraulic lines on mobile equipment, machine tools, farm machinery and other industrial applications. It features one braid of high-tensile, steel wire reinforcement and comes in inside diameters ranging from 1/4 inch to 1 inch, inclusive.

HFS2 Firescreen II Hose, which meets SAE 100R16, is used in high-pressure (similar to SAE 100R2) hydraulic lines on off-road construction equipment, machine tools, mining equipment and other industrial applications. Its compact design features one or two braids of high-tensile steel wire reinforcement and is available in inside diameters ranging from 1/4 inch to 1 inch, inclusive.

Eliminator hose is used for high-pressure hydraulic applications where spiral wire reinforced hose might normally be used. Eliminator offers four-spiral wire hose performance in high-tensile, two-wire braid construction, providing excellent flexibility, long length patterns and cost savings in comparison to SAE 100R9 and SAE 100R12 spiral reinforced hoses. This hose offers inside diameters ranging from 1/4 inch to 1 inch, inclusive.

With $6 billion in annual sales, Parker Hannifin Corporation is the world's leading diversified manufacturer of motion and control technologies, providing systematic, precision-engineered solutions for a wide variety of commercial, industrial, mobile and aerospace markets. Parker's product mix reaches beyond simple parts. The company's products are vital to virtually everything that moves or requires control, including the manufacture and processing of raw materials, durable goods, infrastructure development, agriculture, and all forms of transport. Parker offers global distribution and product support facilities to its customers from the design stage to final system delivery and beyond. For more information, visit the company's web site at www.parker.com


More from Fluid & Gas Flow Equipment